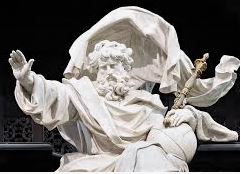 Feast of God the Father and His Divine Will – 3:00 P.M. Service
August 1, 2021
Once again, I (Maureen) see a Great Flame that I have come to know as the Heart of God the Father. He says: "Children, I speak to you from Heaven where there is All-Peace, Love and Joy. Whenever peace tries to make inroads in the world today, it is challenged by evil. The greater the force of love, the greater the challenge by evil. This is the ongoing struggle between Satan's minions and righteousness. These days, evil is forcing its way into governments, entertainment and all forms of media. Dress codes are very often a signature of Satan's influence. Do not be surprised, then, when your good efforts are countered by attacks of evil."

"Living in Holy Love does not make man more vulnerable to evil attacks. Rather, Holy Love makes the soul stronger against Satan's wiles."

"The future of the world depends on mankind's relationship with Me. I am the Eternal Now. It is I who inspired the journey through the United Hearts.* The response has not been enough to change the heart of the world."

"Nation shall rise against nation until My Son returns. Only then will all hearts be convicted and converted in Holy Love. It is Holy Love that will be victorious over all heresy and apostasy. At that time, Satan will not be able to insinuate his way into hearts. Apostasy and heresy will be exposed for what they are."

"When the Truth is difficult to discover, you must pray for perseverance in discernment, remembering that Satan hides the Truth behind lies. It is Satan's trickery and lies that will seat the Antichrist on his throne. In the end, the Holy Mother's** Immaculate Heart will triumph in Truth."

"The more the soul obeys My Commandments,*** the deeper his commitment to living in My Divine Will. Obedience to My Commandments is My Divine Will. It is the fulfillment of Holy Love. Knowing My Commandments is not enough. You must live them. This is your passkey to Heaven."

"The more the soul lives My Commandments, the holier he becomes. In today's world, disobedience has taken on a life of its own. I must point out – abortion is a sin against My Commandments. This sin alone is supported by law – claims millions of dollars in profit. Money has become a god of its own – leaving a stench in My Nostrils."

"My Mission today is to spark a deeper respect of My Commandments based upon a profound love for me. Pray for this."

"If you believe or disbelieve in My speaking to you in this present moment, is according to your free will. You must, however, obey My Commandments in order to reach Heaven."

The Triple Blessing**** was given during the 5th Glorious Mystery of the Rosary.

* See more on the Chambers of the United Hearts here: http://www.holylove.org/deepening-ones-personal-holiness/the-way-to-heaven-through-the-chambers-of-the-united-hearts/

See also the book entitled, 'The Journey Through the Chambers of the United Hearts – The Pursuit of Holiness', available from Archangel Gabriel Enterprises Inc.: http://www.rosaryoftheunborn.com. or click here to read pdf: http://holylove.org/files/med_1572652555.pdf

 

1º de Agosto del 2021
Fiesta de Dios Padre y Su Divina Voluntad
Oración de las 3:00 P.M. en el Campo de los Corazones Unidos
(Este mensaje se dio en partes en los últimos días.)

Nuevamente veo una gran llama que he llegado a reconocer como el Corazón de Dios Padre. Dice: "Hijos, hoy les hablo desde el Cielo donde todo es paz, amor y gozo. Siempre que la paz intenta abrirse camino en el mundo de hoy, se ve desafiada por el mal. Mientras más grande la fuerza del amor, más grande el desafío del mal. Esta es una lucha continua entre los secuaces de Satanás y la rectitud. En la actualidad, el mal se está abriendo paso en los gobiernos, en el entretenimiento y en todos los medios de comunicación. Con mucha frecuencia, los códigos de vestimenta son el sello de la influencia de Satanás. No se sorprendan, entonces, cuando sus buenos esfuerzos son contrarrestados por los ataques del mal."

"Vivir en Amor Santo no hace al hombre más vulnerable a los ataques del mal. Por el contrario, hace al alma más fuerte contra las artimañas de Satanás."

"El futuro del mundo depende de la relación de la humanidad Conmigo. Yo soy el Eterno Ahora. Soy Yo quien inspiró el viaje por los Corazones Unidos. La respuesta no ha sido suficiente para cambiar el corazón del mundo."

"Se levantará nación contra nación hasta el regreso de Mi Hijo. Solo entonces todos los corazones serán convencidos y se convertirán al Amor Santo. El Amor Santo triunfará sobre toda herejía y apostasía. Cuando eso pase, Satanás no podrá inmiscuirse en los corazones. La apostasía y la herejía serán expuestas por lo que son."

"Cuando la verdad sea difícil de descubrir, tienen que rezar pidiendo perseverar en el discernimiento, recordando que Satanás oculta la verdad detrás de las mentiras. Las trampas y las mentiras de Satanás es lo que pondrá al anticristo en su trono. Al final, el Inmaculado Corazón de la Santa Madre triunfará en la verdad."

"Mientras más obedezca el alma Mis mandamientos, más profundo será su compromiso para vivir en Mi Divina Voluntad. La obediencia a Mis mandamientos es Mi Divina Voluntad; es el cumplimiento del Amor Santo. Conocer Mis mandamientos no es suficiente. Tienen que hacerlos vida. Esto es su llave para entrar al Cielo."

"Mientras más haga vida el alma Mis mandamientos, más santa se vuelve. En el mundo de hoy, la desobediencia ha tomado vida propia. Debo señalar que el aborto es un pecado contra Mis mandamientos. Tan solo este pecado está respaldado por la ley y percibe millones de dólares en ganancias. El dinero mismo se ha convertido en un dios, dejándome un olor desagradable."

"Mi misión de hoy es suscitar un respeto más profundo por Mis mandamientos basado en un amor profundo por Mí. Recen por esto."

"Si ustedes creen o no creen en lo que Yo les digo en este momento presente, eso depende de su libre albedrío. Sin embargo, ustedes deben obedecer Mis mandamientos para poder llegar al Cielo."

La triple Bendición se impartió durante el 5º misterio glorioso del Rosario.
RE: Latest messages are at Holy Love Ministries (www.holylove.org) and Ministerios del Amor Santo (www.amorsanto.com)