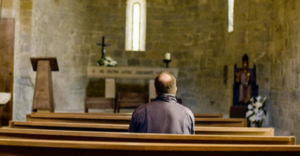 July 17, 2021
Once again, I (Maureen) see a Great Flame that I have come to know as the Heart of God the Father. He says: "Your spiritual 'house' is secured with the nails of the Truth. The Holy Truth, of course, is obedience to My Commandments.* All that opposes this Truth, begins to destroy your spiritual house. The compromise of Truth begins as disordered self-love creeps in. Sin – no matter how minuscule – is like a wind that gradually pulls apart the spiritual house."

"The windows in this house are comprised of wisdom. This is Heavenly Wisdom that helps the soul to see what is spiritually dangerous to the spiritual house of your soul. These windows peer out to the outside world but they also look in from the outside. The windows are discernment as to the path the soul is taking. If the 

the soul loses sight of the path he is taking."

"A daily examination of conscience is your window cleaner in your spiritual house."

Read James 3:13-18+




Who is wise and understanding among you? By his good life let him show his works in the meekness of wisdom. But if you have bitter jealousy and selfish ambition in your hearts, do not boast and be false to the truth. This wisdom is not such as comes down from above, but is earthly, unspiritual, devilish. For where jealousy and selfish ambition exist, there will be disorder and every vile practice. But the wisdom from above is first pure, then peaceable, gentle, open to reason, full of mercy and good fruits, without uncertainty or insincerity. And the harvest of righteousness is sown in peace by those who make peace.

+ Scripture verses asked to be read by God the Father. (Please note: all Scripture given by Heaven refers to the Bible used by the visionary. Ignatius Press – Holy Bible – Revised Standard Version – Second Catholic Edition.)

* God the Father provided a full explanation of His Commandments to visionary Maureen Sweeney-Kyle beginning June 24th and ending on July 3rd, 2021. To read or listen to this valuable discourse please go to: http://www.holylove.org/ten/

 

17 de Julio del 2021
Nuevamente veo una gran llama que he llegado a reconocer como el Corazón de Dios Padre. Dice: "Su casa espiritual se afianza con los clavos de la verdad. La santa verdad, por supuesto, es la obediencia a Mis Mandamientos. Todo lo que se opone a esta verdad empieza a destruir su casa espiritual. La negociación de la verdad inicia a medida que surge el amor propio desordenado. El pecado –independientemente de lo diminuto que sea– es como un viento que gradualmente va destruyendo la casa espiritual."

"Las ventanas de esta casa están compuestas por la sabiduría. Esta es la sabiduría celestial que ayuda al alma a ver lo que es espiritualmente peligroso para la casa espiritual de su alma. Estas ventanas miran al mundo exterior, pero también miran desde el exterior. Las ventanas son el discernimiento en cuanto al sendero que el alma está tomando. Si las ventanas espirituales se manchan, el alma pierde de vista el sendero que lleva."

"Un examen de conciencia diario es lo que limpia las ventanas en su casa espiritual."

Lean Santiago 3:13-18




El que se tenga por sabio y prudente, demuestre con su buena conducta que sus actos tienen la sencillez propia de la sabiduría. Pero si ustedes están dominados por la rivalidad y por el espíritu de discordia, no se vanaglorien ni falten a la verdad. Semejante sabiduría no desciende de lo alto sino que es terrena, sensual y demoníaca. Porque donde hay rivalidad y discordia, hay también desorden y toda clase de maldad. En cambio, la sabiduría que viene de lo alto es, ante todo, pura; y además, pacífica, benévola y conciliadora; está llena de misericordia y dispuesta a hacer el bien; es imparcial y sincera. Un fruto de justicia se siembra pacíficamente para los que trabajan por la paz.
RE: Latest messages are at Holy Love Ministries (www.holylove.org) and Ministerios del Amor Santo (www.amorsanto.com)