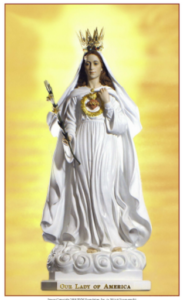 Independence Day
July 4, 2021
The Blessed Virgin Mary says: "Praise be to Jesus."

"Since the peace of the world has been entrusted to My Immaculate Heart, the Lord has invited Me to address your nation* on this – the celebration of your independence from tyranny. This nation has become, once again, a slave nation. This has happened since open abortion was legalized under your reigning President.** Abortion is not a victory for freedom, but an enslavement to sin. No one knows who has been summarily sacrificed on the altar of abortion. I tell you, great leaders in the fields of religion, science and even politics have met their demise at the hands of abortionists. This sin has weakened your nation's independent spirit and sense of good over evil."

"As you celebrate today, take a moment to pray that each citizen – those in the womb included – is able to celebrate each year the safety of a free life in the world today. Freedom from sin is the Victory of My Immaculate Heart."

Read Leviticus 20:7-8+

Consecrate yourselves therefore, and be holy; for I am the LORD your God. Keep my statutes, and do them; I am the LORD who sanctify you.

+ Scripture verses asked to be read by the Blessed Virgin Mary.

 

4 de Julio del 2021
Día de la Independencia de EE.UU.

La Santísima Virgen María dice: "Alabado sea Jesús."

"Ya que la paz del mundo ha sido confiada a Mi Inmaculado Corazón, el Señor me ha invitado a dirigirme a su Nación en la celebración de su independencia de la tiranía. Esta Nación, de nueva cuenta, se ha vuelto una nación esclava. Esto ha sucedido desde que el aborto abierto fue legalizado por su Presidente en turno (Joseph R. Biden). El aborto no es una victoria para la libertad, sino una esclavitud al pecado. Nadie sabe quién ha sido sacrificado arbitrariamente en el altar del aborto. Yo les digo, grandes líderes en el campo de la religión, la ciencia e incluso en el de la política se han enfrentado a su muerte en manos de los abortistas. Este pecado ha debilitado el espíritu independiente de su Nación y el sentido del bien sobre el mal."

"Mientras celebran hoy, tómense un momento para rezar pidiendo que cada ciudadano –incluidos los que están en el vientre materno– puedan celebrar cada año la seguridad de una vida libre en el mundo actual. La libertad del pecado es la victoria de Mi Inmaculado Corazón."

Lean Levítico 20:7-8
Ustedes se santificarán y serán santos, porque yo soy el Señor, su Dios. Observarán fielmente mis preceptos. Yo soy el Señor, que los santifico.
RE: Latest messages are at Holy Love Ministries (www.holylove.org) and Ministerios del Amor Santo (www.amorsanto.com)