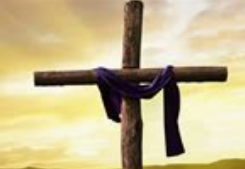 April 13, 2021
Once again, I (Maureen) see a Great Flame that I have come to know as the Heart of God the Father. He says: "I am pleased with the turnout for the prayer event over the weekend.* Perhaps, soon, it will be safe enough to have a rosary in the United Hearts Field** and buses could fill to half-capacity. I know the believers will come any way possible. I strengthen them in that."

"Always depend upon the safety of My Paternal Heart, for I am with you to the end. According to My Impregnable Will, you will be led to salvation if you desire it. Always pray with faith-filled hearts – hearts which trust in My Will. If you pray in this way, you will recognize My Will for you. Such prayers are the defeat of Satan and your victory."

"Confide to My Paternal Heart your needs and concerns. I am Omnipresent and listening. Evils in the world are the bad fruits of Satan's efforts to defeat My Good Works. Believers stop him cold in his tracks. Therefore, surrender your past, present and future to Me. Trust I work through you."

Read Colossians 2:8-10+

See to it that no one makes a prey of you by philosophy and empty deceit, according to human tradition, according to the elemental spirits of the universe, and not according to Christ. For in him the whole fulness of deity dwells bodily, and you have come to fulness of life in him, who is the head of all rule and authority.

+ Scripture verses asked to be read by God the Father.

 

13 de Abril del 2021
Nuevamente veo una gran llama que he llegado a reconocer como el Corazón de Dios Padre. Dice: "Estoy muy complacido con la asistencia al evento de oración del fin de semana. Quizá pronto sea lo suficientemente seguro para rezar un Rosario en el Campo de los Corazones Unidos y los autobuses podrán llenarse a la mitad de su capacidad. Yo sé que los creyentes vendrán de cualquier manera posible. Yo los respaldo en eso."

"Dependan siempre de la seguridad de Mi Corazón Paternal, porque Yo estoy con ustedes hasta el final. Si ustedes lo desean, serán guiados hacia la salvación conforme a Mi Voluntad invencible. Recen siempre con corazones llenos de fe; con corazones que confían en Mi Voluntad. Si rezan así, van a reconocer Mi Voluntad para ustedes. Este tipo de oraciones son su victoria y la derrota de Satanás."

"Encomienden sus necesidades y preocupaciones a Mi Corazón Paternal. Yo soy Omnipresente y estoy escuchando. Los males del mundo son el mal fruto de los esfuerzos de Satanás por frustrar Mis buenas obras. Los creyentes lo detienen; lo paran en seco. Por lo tanto, ríndanme su pasado, su presente y su futuro. Confíen en que Yo actúo a través de ustedes."

Lean Colosenses 2:8-10




No se dejen esclavizar por nadie con la vacuidad de una engañosa filosofía, inspirada en tradiciones puramente humanas y en los elementos del mundo, y no en Cristo. Porque en él habita corporalmente toda la plenitud de la divinidad, y ustedes participan de esa plenitud de Cristo, que es la Cabeza de todo Principado y de toda Potestad.
RE: Latest messages are at Holy Love Ministries (www.holylove.org) and Ministerios del Amor Santo (www.amorsanto.com)