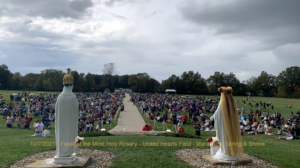 God The Father
October 9, 2021
Once again, I (Maureen) see a Great Flame that I have come to know as the Heart of God the Father. He says: "All of Heaven rejoiced at the sight of the crowd, the numbers of people and the quality of prayer here* on the Feast of the Holy Rosary.** There were many conversions of heart and some healings. The Holy Mother*** is looking forward to Her next Apparition here on Her Feast of Guadalupe.**** When these crowds pray, the passage of grace between Heaven and earth is profound."

"The treasury of grace I have offered here in the past and that I will offer in the future is like a red-hot coal in the face of evil. That is why there has been so much persecution of this Ministry.***** Misinformation is the power tool of Satan, which he uses expertly. However, if we were not making a difference in the spiritual world, everything would be going smoothly. As it is, I urge My children to confound Satan by learning the difference between good and evil.****** The real war in the world is in the spiritual hearts of My children."

Read Ephesians 6:10-17+

Finally, be strong in the Lord and in the strength of his might. Put on the whole armor of God, that you may be able to stand against the wiles of the devil. For we are not contending against flesh and blood, but against the principalities, against the powers, against the world rulers of this present darkness, against the spiritual hosts of wickedness in the heavenly places. Therefore take the whole armor of God, that you may be able to withstand in the evil day, and having done all, to stand. Stand therefore, having fastened the belt of Truth around your waist, and having put on the breastplate of righteousness, and having shod your feet with the equipment of the gospel of peace; besides all these, taking the shield of faith, with which you can quench all the flaming darts of the Evil One. And take the helmet of salvation, and the sword of the Spirit, which is the word of God.

+ Scripture verses asked to be read by God the Father.

 

9 de Octubre del 2021
Nuevamente veo una gran llama que he llegado a reconocer como el Corazón de Dios Padre. Dice: "Todo el Cielo se alegró al ver la multitud, la cantidad de personas y la calidad de la oración aquí en la Fiesta del Santo Rosario. Hubo muchas conversiones de corazón y algunas sanaciones. La Santa Madre anhela Su próxima aparición aquí en Su Fiesta de Guadalupe. Cuando estas multitudes rezan, el canal de gracia entre el Cielo y la tierra es grande."

"El tesoro de gracia que Yo he ofrecido aquí en el pasado y que ofreceré en el futuro es como brasas al rojo vivo frente al mal. Por eso ha habido tanta persecución en este Ministerio. La desinformación es la herramienta poderosa de Satanás, la cual él usa bastante bien. Sin embargo, si nosotros no estuviéramos haciendo una diferencia en el mundo espiritual, todo iría sin complicaciones. Tal como están las cosas, exhorto a Mis hijos a sorprender a Satanás conociendo la diferencia entre el bien y el mal. La verdadera guerra en el mundo está en el corazón espiritual de Mis hijos."

Lean Efesios 6:10-17




Por lo demás, fortalézcanse en el Señor con la fuerza de su poder. Revístanse con la armadura de Dios, para que puedan resistir las insidias del demonio. Porque nuestra lucha no es contra enemigos de carne y sangre, sino contra los Principados y Potestades, contra los Soberanos de este mundo de tinieblas, contra los espíritus del mal que habitan en el espacio. Por lo tanto, tomen la armadura de Dios, para que puedan resistir en el día malo y mantenerse firmes después de haber superado todos los obstáculos. Permanezcan de pie, ceñidos con el cinturón de la verdad y vistiendo la justicia como coraza. Calcen sus pies con el celo para propagar la Buena Noticia de la paz. Tengan siempre en la mano el escudo de la fe, con el que podrán apagar todas las flechas encendidas del Maligno. Tomen el casco de la salvación, y la espada del Espíritu, que es la Palabra de Dios.
RE: Latest messages are at Holy Love Ministries (www.holylove.org) and Ministerios del Amor Santo (www.amorsanto.com)