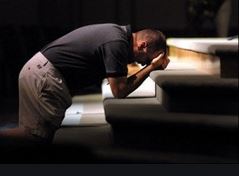 April 27, 2021
Once again, I (Maureen) see a Great Flame that I have come to know as the Heart of God the Father. He says: "These days, mankind needs to be reconciled with the Truth. The Truth being his own mortality and his dependency on My Divine Provision. The soul who does not depart from these Truths is at peace and does not try to amass a fortune to be used up in his lifetime. He works towards his eternal goal which is awaiting him in Heaven.""All the prayers and sacrifices a soul offers on earth carries with it eternal value – a prize that awaits him in Heaven. When he reaches Heaven, it will be like opening a treasure chest of precious treasures. Your prayers arrive in Heaven ahead of you and rest as jewels at the feet of the Holy Mother.* Your trust in My Provision is a jewel that is yours on earth."

"Do not allow Satan to discourage you in any prayer effort or in trust in My Provision. He is jealous of your prayers and your trust."

Read Psalm 4:2-3+

O sons of men, how long will you be dull of heart? How long will you love vain words, and seek after lies? But know that the Lord has set apart the godly for himself; the Lord hears when I call to him.

Read Colossians 3:1-10+

If then you have been raised with Christ, seek the things that are above, where Christ is, seated at the right hand of God. Set your minds on things that are above, not on things that are on earth. For you have died, and your life is hid with Christ in God. When Christ who is our life appears, then you also will appear with him in glory. Put to death therefore what is earthly in you: immorality, impurity, passion, evil desire, and covetousness, which is idolatry. On account of these the wrath of God is coming upon the sons of disobedience. In these you once walked, when you lived in them. But now put them all away: anger, wrath, malice, slander, and foul talk from your mouth. Do not lie to one another, seeing that you have put off the old nature with its practices and have put on the new nature, which is being renewed in knowledge after the image of its creator.

+ Scripture verses asked to be read by God the Father.

 

27 de Abril del 2021
Nuevamente veo una gran llama que he llegado a reconocer como el Corazón de Dios Padre. Dice: "Hoy en día, la humanidad necesita reconciliarse con la verdad. Siendo la verdad su propia mortalidad y su dependencia en Mi Divina Provisión. El alma que no se aparta de estas verdades está en paz y no intenta acumular una fortuna para gastarla durante su vida. Ella trabaja orientada en su propósito eterno que le espera en el Cielo.""Todas las oraciones y sacrificios que un alma ofrece en la tierra tienen un valor eterno; un premio esperándole en el Cielo. Cuando el alma llegue al Cielo, será como abrir un cofre con preciosos tesoros. Sus oraciones llegan al Cielo antes que ustedes y yacen como joyas a los pies de la Santa Madre. Su confianza en Mi Provisión es una joya que les pertenece a ustedes en la tierra."

"No permitan que Satanás los desaliente en los esfuerzos de oración o en la confianza en Mi Provisión. Él tiene celos de sus oraciones y de su confianza."

Lean Salmo 4:3-4




Y ustedes, señores, ¿hasta cuando ultrajarán al que es mi Gloria, amarán lo que es falso y buscarán lo engañoso? Sepan que el Señor hizo maravillas por su amigo: él me escucha siempre que lo invoco.

Colosenses 3:1-10




Ya que ustedes han resucitado con Cristo, busquen los bienes del cielo donde Cristo está sentado a la derecha de Dios. Tengan el pensamiento puesto en las cosas celestiales y no en las de la tierra. Porque ustedes están muertos, y su vida está desde ahora oculta con Cristo en Dios. Cuando se manifieste Cristo, que es nuestra vida, entonces ustedes también aparecerán con él, llenos de gloria. Por lo tanto, hagan morir en sus miembros todo lo que es terrenal: la lujuria, la impureza, la pasión desordenada, los malos deseos y también la avaricia, que es una forma de idolatría. Estas cosas provocan la ira de Dios. Ustedes mismos se comportaban así en otro tiempo, viviendo desordenadamente. Pero ahora es necesario que acaben con la ira, el rencor, la maldad, las injurias y las conversaciones groseras. Tampoco se engañen los unos a los otros. Porque ustedes se despojaron del hombre viejo y de sus obras y se revistieron del hombre nuevo, aquel que avanza hacia el conocimiento perfecto, renovándose constantemente según la imagen de su Creador.
RE: Latest messages are at Holy Love Ministries (www.holylove.org) and Ministerios del Amor Santo (www.amorsanto.com)