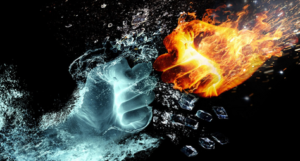 September 23, 2021
Once again, I (Maureen) see a Great Flame that I have come to know as the Heart of God the Father. He says: "Children, all the things around you that weaken and attack your faith are tools of Satan. These can be money and ways of earning money, different friends who influence you negatively, many forms of entertainment – even the printed word, physical appearance, gossip and so on. Learn to take account of your day – how you spend your time and what is most important to you. Learn the Commandments* which I have given you and acknowledge the ways they affect your day.""Throughout the day, love Me first above all else, for this is the First Commandment. The things or people that weaken your faith often become false gods and more important to you than love of Me. I am a jealous God and want to be the most important thing in your life."

Read Galatians 3:19+

Why then the law? It was added because of transgressions, till the offspring should come to whom the promise had been made; and it was ordained by angels through an intermediary.

+ Scripture verses asked to be read by God the Father.

 

23 de Septiembre del 2021
Nuevamente veo una gran llama que he llegado a reconocer como el Corazón de Dios Padre. Dice: "Hijos, todas las cosas a su alrededor que debilitan y atacan su fe son herramientas de Satanás. Puede tratarse del dinero y las formas de ganar dinero, de diversos amigos que influyen en ustedes de forma negativa, pueden ser muchas formas de entretenimiento, incluso la palabra impresa, la apariencia física, murmuraciones, etc. Aprendan a estar al tanto de su día; de cómo emplean su tiempo y de lo que es más importante para ustedes. Aprendan los mandamientos que Yo les he dado y reconozcan las formas en que impactan su día.""A lo largo del día, ámenme a Mí sobre todas las cosas, porque este es el Primer Mandamiento. Las cosas o las personas que debilitan su fe muchas veces se vuelven falsos dioses y son más importantes que el amor por Mí. Yo soy un Dios celoso y quiero ser lo más importante en sus vidas."

Lean Gálatas 3:19




Entonces, ¿para qué sirve la Ley? Ella fue añadida para multiplicar las transgresiones, hasta que llegara el descendiente de Abraham, a quien estaba destinada la promesa; y fue promulgada por ángeles, a través de un mediador.
RE: Latest messages are at Holy Love Ministries (www.holylove.org) and Ministerios del Amor Santo (www.amorsanto.com)