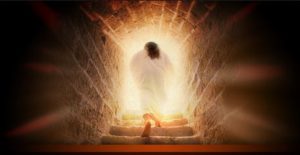 April 4, 2021
Once again, I (Maureen) see a Great Flame that I have come to know as the Heart of God the Father. He says: "Alleluia! Today we celebrate My Son's* Victory over sin and death! It is a Victory which dumbfounded Satan. The morning was still and peaceful, in stark contrast to the stormy clatter of Good Friday. His rise from the dead was quiet and peaceful and without fanfare. But the effects of His Resurrection brought victory down through the generations into the hearts of believers."

"All of Heaven celebrates His Victory today. All problems seem to fade away in the everlasting Light of His Victory. Today I am a very real part of the heart of the world and the victory over sin in each heart. Rejoice with Me!"

Read John 20:1-18+




The Resurrection of Jesus

1 Now on the first day of the week, Mary Mag'dalene came to the tomb early, while it was still dark, and saw that the stone had been taken away from the tomb.




2 So she ran, and went to Simon Peter and the other disciple, the one whom Jesus loved, and said to them, "They have taken the Lord out of the tomb, and we do not know where they have laid him."




3 Peter then came out with the other disciple, and they went toward the tomb.




4 They both ran, but the other disciple outran Peter and reached the tomb first;




5 and stooping to look in, he saw the linen cloths lying there, but he did not go in.




6 Then Simon Peter came, following him, and went into the tomb; he saw the linen cloths lying,




7 and the napkin, which had been on his head, not lying with the linen cloths but rolled up in a place by itself.




8 Then the other disciple, who reached the tomb first, also went in, and he saw and believed;




9 for as yet they did not know the Scripture, that he must rise from the dead.




10 Then the disciples went back to their homes.

Jesus Appears to Mary Magdalene




11 But Mary stood weeping outside the tomb, and as she wept she stooped to look into the tomb;




12 and she saw two angels in white, sitting where the body of Jesus had lain, one at the head and one at the feet.




13 They said to her, "Woman, why are you weeping?" She said to them, "Because they have taken away my Lord, and I do not know where they have laid him."




14 Saying this, she turned round and saw Jesus standing, but she did not know that it was Jesus.




15 Jesus said to her, "Woman, why are you weeping? Whom do you seek?" Supposing him to be the gardener, she said to him, "Sir, if you have carried him away, tell me where you have laid him, and I will take him away."




16 Jesus said to her, "Mary." She turned and said to him in Hebrew, "Rab-bo'ni!" (which means Teacher).




17 Jesus said to her, " Do not hold me, for I have not yet ascended to the Father; but go to my brethren and say to them, I am ascending to my Father and your Father, to my God and your God."*




18 Mary Mag'dalene went and said to the disciples, "I have seen the Lord"; and she told them that he had said these things to her.

Jesus Gives the Disciples The Power to Forgive Sins

19 On the evening of that day, the first day of the week, the doors being shut where the disciples were, for fear of the Jews, Jesus came and stood among them and said to them, "Peace be with you."
20 When he had said this, he showed them his hands and his side. Then the disciples were glad when they saw the Lord.
+ Scripture verses asked to be read by God the Father.

 

4 de Abril del 2021
Domingo de Resurrección

Nuevamente veo una gran llama que he llegado a reconocer como el Corazón de Dios Padre. Dice: ¡Aleluya! ¡Hoy celebramos la victoria de Mi Hijo sobre el pecado y la muerte! Es una victoria que dejó anonadado a Satanás. La mañana estaba tranquila y pacífica, en fuerte contraste con el violento estrépito del Viernes Santo. Su resurrección de entre los muertos fue serena y pacífica y sin fanfarrias. Pero los efectos de Su resurrección dieron a los corazones de los creyentes la victoria a lo largo de las generaciones."




"Hoy, el Cielo entero celebra Su victoria. Todos los problemas parecen desaparecer ante la luz eterna de Su victoria. Hoy día Yo soy una parte muy real del corazón del mundo y de la victoria sobre el pecado en cada corazón. ¡Alégrense Conmigo!"

Lean Juan 20:1-18




El primer día de la semana, de madrugada, cuando todavía estaba oscuro, María Magdalena fue al sepulcro y vio que la piedra había sido sacada. Corrió al encuentro de Simón Pedro y del otro discípulo al que Jesús amaba, y les dijo: "Se han llevado del sepulcro al Señor y no sabemos dónde lo han puesto". Pedro y el otro discípulo salieron y fueron al sepulcro. Corrían los dos juntos, pero el otro discípulo corrió más rápidamente que Pedro y llegó antes. Asomándose al sepulcro, vio las vendas en el suelo, aunque no entró. Después llegó Simón Pedro, que lo seguía, y entró en el sepulcro: vio las vendas en el suelo y también el sudario que había cubierto su cabeza; este no estaba con las vendas, sino enrollado en un lugar aparte. Luego entró el otro discípulo, que había llegado antes al sepulcro: él vio y creyó. Todavía no habían comprendido que, según la Escritura, él debía resucitar de entre los muertos. Los discípulos regresaron entonces a su casa. María se había quedado afuera, llorando junto al sepulcro. Mientras lloraba, se asomó al sepulcro y vio a dos ángeles vestidos de blanco, sentados uno a la cabecera y otro a los pies del lugar donde había sido puesto el cuerpo de Jesús. Ellos le dijeron: "Mujer, ¿por qué lloras?". María respondió: "Porque se han llevado a mi Señor y no sé dónde lo han puesto". Al decir esto se dio vuelta y vio a Jesús, que estaba allí, pero no lo reconoció. Jesús le preguntó: "Mujer, ¿por qué lloras? ¿A quién buscas?". Ella, pensando que era el cuidador de la huerta, le respondió: "Señor, si tú lo has llevado, dime dónde lo has puesto y yo iré a buscarlo". Jesús le dijo: "¡María!". Ella lo reconoció y le dijo en hebreo: "¡Raboní!", es decir "¡Maestro!". Jesús le dijo: "No me retengas, porque todavía no he subido al Padre. Ve a decir a mis hermanos: 'Subo a mi Padre, el Padre de ustedes; a mi Dios, el Dios de ustedes'". María Magdalena fue a anunciar a los discípulos que había visto al Señor y que él le había dicho esas palabras.
RE: Latest messages are at Holy Love Ministries (www.holylove.org) and Ministerios del Amor Santo (www.amorsanto.com)