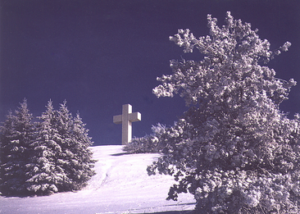 February 15, 2021
Once again, I (Maureen) see a Great Flame that I have come to know as the Heart of God the Father. He says: "In the world, much of your country* is being blanketed with snow. Think how purified the world would be if, instead of snow, the earth was blanketed with My Grace. As it is, Man's souls are not open to My Grace, but allow their free will to reject the Grace I intend for them. Or, consider this, each snowflake represents a soul slipping to their perdition due to lack of obedience to My Commandments. As time goes by, everything is returned to normal. However, in reality, souls always rejecting the grace of salvation are not restored. All graces being rejected, they never are purified in My Sight again."

"Allow My Grace to melt over you and renew your spirit in Holy Love. Let your hearts be living furnaces of love which change the landscape of the world and your hearts forever. Remain warm in My Love."

Read 1 John 2:3+

And by this we may be sure that we know Him, if we keep His Commandments.

+ Scripture verses asked to be read by God the Father.

 

15 de Febrero del 2021
Nuevamente veo una gran llama que he llegado a reconocer como el Corazón de Dios Padre. Dice: "En el mundo, gran parte de su País se ha cubierto de nieve. Piensen en la purificación que tendría el mundo si en vez de nieve, la tierra estuviera cubierta de Mi gracia. La realidad es que las almas de los hombres no se abren a Mi gracia, sino permiten que su libre albedrío rechace la gracia que Yo quiero para ellas. O consideren esto, cada copo de nieve representa un alma cayendo en su perdición debido a la nula obediencia a Mis mandamientos. A medida que pasa el tiempo, todo vuelve a la normalidad. Sin embargo, la realidad es que las almas que siempre rechazan la gracia de la salvación no sanan. Nunca se purifican ante Mi vista a causa de todas las gracias que rechazaron."

"Permitan que Mi gracia se derrita sobre ustedes y renueve su espíritu con Amor Santo. Que sus corazones sean fogones vivos de amor que cambien el paisaje del mundo y sus corazones para siempre. Permanezcan abrigados en Mi amor."

Lean 1ª Juan 2:3




La señal de que lo conocemos, es que cumplimos sus mandamientos.
RE: Latest messages are at Holy Love Ministries and Ministerios del Amor Santo