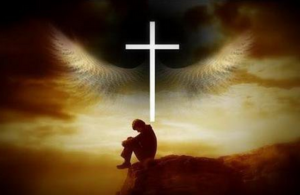 April 19, 2021
Once again, I (Maureen) see a Great Flame that I have come to know as the Heart of God the Father. He says: "Every present moment is a gift from Me to be used towards your own salvation or the salvation of others. During difficulties it is hard to keep this in focus. My Will and My Grace are unending and eternal. I have called each one of you to be alive during these times – times which are evil and trials which tempt your courage."

"Do not give in to unforgiveness, discouragement or anger. Remember, My Son* chose His Cross for you. He chose it without complaint, but with courageous resolve. Every cross carries with it the promise of the Resurrection. Allow this promise to be a positive influence in any difficulty. Allow the promise of My Assistance to overcome any discouragement or negativity. Learn to share your cross with Me."

Read Colossians 3:12-15+

Put on then, as God's chosen ones, holy and beloved, compassion, kindness, lowliness, meekness, and patience, forbearing one another and, if one has a complaint against another, forgiving each other; as the Lord has forgiven you, so you also must forgive. And above all these put on love, which binds everything together in perfect harmony. And let the peace of Christ rule in your hearts, to which indeed you were called in the one body. And be thankful.

Read Luke 17:3-4+

Take heed to yourselves; if your brother sins, rebuke him, and if he repents, forgive him; and if he sins against you seven times in the day, and turns to you seven times, and says, 'I repent,' you must forgive him."

+ Scripture verses asked to be read by God the Father.

 

19 de Abril del 2021
Nuevamente veo una gran llama que he llegado a reconocer como el Corazón de Dios Padre. Dice: "Cada momento presente es un regalo de parte Mía para ser utilizado en su propia salvación o en la salvación de otros. No es fácil centrarse en esto durante las dificultades. Mi Voluntad y Mi gracia son inagotables y eternas. Yo he llamado a cada uno de ustedes a estar vivos durante estos tiempos; tiempos que son malignos y tiempos de cruces que ponen a prueba su valentía."

"No cedan a la falta de perdón, al desaliento ni a la ira. Recuerden, Mi Hijo eligió Su Cruz por ustedes. Él no la eligió con quejas, sino con valiente determinación. Cada cruz lleva consigo la promesa de la resurrección. Permitan que esta promesa sea una influencia positiva en cualquier dificultad. Permitan que la promesa de Mi ayuda venza cualquier desaliento o negatividad. Aprendan a compartir sus cruces Conmigo."

Lean Colosenses 3:12-15




Como elegidos de Dios, sus santos y amados, revístanse de sentimientos de profunda compasión. Practiquen la benevolencia, la humildad, la dulzura, la paciencia. Sopórtense los unos a los otros, y perdónense mutuamente siempre que alguien tenga motivo de queja contra otro. El Señor los ha perdonado: hagan ustedes lo mismo. Sobre todo, revístanse del amor, que es el vínculo de la perfección. Que la paz de Cristo reine en sus corazones: esa paz a la que han sido llamados, porque formamos un solo Cuerpo. Y vivan en la acción de gracias.

Lucas 17:3-4
Por lo tanto, ¡tengan cuidado! Si tu hermano peca, repréndelo, y si se arrepiente, perdónalo. Y si peca siete veces al día contra ti, y otras tantas vuelve a ti, diciendo: 'Me arrepiento', perdónalo.
RE: Latest messages are at Holy Love Ministries (www.holylove.org) and Ministerios del Amor Santo (www.amorsanto.com)