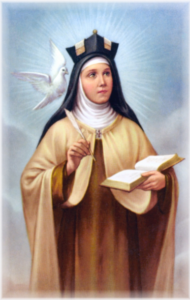 Feast of St. Teresa of Avila
October 15, 2021
Once again, I (Maureen) see a Great Flame that I have come to know as the Heart of God the Father. He says: "I long to place in each heart the desire to love Me more. This is the way to a deeper personal holiness. This can only happen if the soul empties his heart of worldly concerns and affections. Allow your hearts to desire more knowledge about My Will. What do I lead you to according to My Divine Will? How can you get to know Me better? What is your heart attached to in the world – certain pastimes, disordered attachment to certain people, perhaps love of money or worldly esteem?"

"Learn to pray before making decisions. This is how I can become more a part of your everyday life. Surrender your crosses to Me – great and small. It is in this way, I am better able to become more real to you. My Presence is always at your disposal. Ask Me to feel My Presence."

Read Colossians 3:1-4+

If then you have been raised with Christ, seek the things that are above, where Christ is, seated at the right hand of God. Set your minds on things that are above, not on things that are on earth. For you have died, and your life is hid with Christ in God. When Christ who is our life appears, then you also will appear with him in glory.

+ Scripture verses asked to be read by God the Father.

 

15 de Octubre del 2021
Nuevamente veo una gran llama que he llegado a reconocer como el Corazón de Dios Padre. Dice: "Anhelo poner en cada corazón el deseo de amarme más. Así es como se logra una santidad personal más profunda. Esto solo puede suceder si el alma vacía su corazón de preocupaciones y afectos mundanos. Permitan que sus corazones deseen tener más conocimiento de Mi Voluntad. ¿A dónde los conduzco de acuerdo con Mi Divina Voluntad? ¿Cómo pueden llegar a conocerme mejor? ¿Cuáles son los apegos de su corazón en el mundo: determinados pasatiempos, apegos desordenados a ciertas personas, quizá el amor al dinero o afectos mundanos?"

"Aprendan a rezar antes de tomar decisiones. Así es como puedo ser, en mayor medida, una parte de su vida diaria. Ríndanme sus cruces a Mí; grandes o pequeñas. De esta manera puedo ser más real para ustedes. Mi presencia siempre está a su disposición. Pídanme sentir Mi presencia."

Lean Colosenses 3:1-4




Ya que ustedes han resucitado con Cristo, busquen los bienes del cielo donde Cristo está sentado a la derecha de Dios. Tengan el pensamiento puesto en las cosas celestiales y no en las de la tierra. Porque ustedes están muertos, y su vida está desde ahora oculta con Cristo en Dios. Cuando se manifieste Cristo, que es nuestra vida, entonces ustedes también aparecerán con él, llenos de gloria.
RE: Latest messages are at Holy Love Ministries (www.holylove.org) and Ministerios del Amor Santo (www.amorsanto.com)