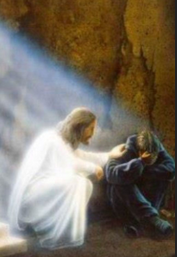 September 10, 2021
Once again, I (Maureen) see a Great Flame that I have come to know as the Heart of God the Father. He says: "Children, always have hope in your hearts for the unseen graces which lie ahead for you. I will never abandon you. Even when you sin, I await your repentance with open arms. Remember, that I am a Loving Father. As such, I may punish, but always with the hope that your repentance will be around the corner and that you will learn from your mistakes. My hope is always for your welfare. Your hope must be a response to the faith in your heart and a response to wisdom and Truth."

Read Romans 8:24-25 +




For in this hope we were saved. Now hope that is seen is not hope. For who hopes for what he sees? But if we hope for what we do not see, we wait for it with patience.

+ Scripture verse(s) asked to be read by God the Father.

 

10 de Septiembre del 2021
Nuevamente veo una gran llama que he llegado a reconocer como el Corazón de Dios Padre. Dice: "Hijos, tengan siempre esperanza en las gracias invisibles futuras. Yo nunca los abandonaré. Incluso cuando pecan, Yo espero con los brazos abiertos a que se arrepientan. Recuerden que Yo soy un padre amoroso. Como tal, puedo castigar, pero siempre con la esperanza de que su arrepentimiento está muy cerca y de que aprenderán de sus errores. Mi esperanza siempre es por su bienestar. La esperanza de ustedes tiene que ser una respuesta a la fe en sus corazones y una respuesta a la sabiduría y la verdad."

Lean Romanos 8:24-25




Porque solamente en esperanza estamos salvados. Ahora bien, cuando se ve lo que se espera, ya no se espera más: ¿acaso se puede esperar lo que se ve? En cambio, si esperamos lo que no vemos, lo esperamos con constancia.
RE: Latest messages are at Holy Love Ministries (www.holylove.org) and Ministerios del Amor Santo (www.amorsanto.com)