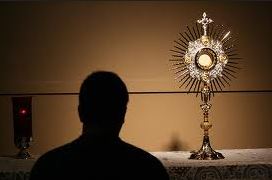 May 9, 2021
Once again, I (Maureen) see a Great Flame that I have come to know as the Heart of God the Father. He says: "Children, never be satisfied with the depth of your holiness. Always try to have a deeper and more perfect relationship with Me. Strive to find new ways to please Me. Search out your shortcomings in obedience to My Commandments. It is Satan who wants to keep you self-satisfied and to convince you everything is status quo in your spiritual journey."

"Confide in Me your desires in life. I want to help you obtain them if they are according to My Divine Will. I cherish every sacrifice you give to Me unselfishly for the good of others. Your sacrifices are a sound way to please Me."

"Give to Me everything in your daily routine. This is how you beautify your soul. This is how I help you to find the Truth."

Read 2 Thessalonians 2:13-15+

But we are bound to give thanks to God always for you, brethren beloved by the Lord, because God chose you from the beginning to be saved, through sanctification by the Spirit and belief in the truth. To this he called you through our gospel, so that you may obtain the glory of our Lord Jesus Christ. So then, brethren, stand firm and hold to the traditions which you were taught by us, either by word of mouth or by letter.

+ Scripture verses asked to be read by God the Father.

 

9 de Mayo del 2021
Nuevamente veo una gran llama que he llegado a reconocer como el Corazón de Dios Padre. Dice: "Hijos, nunca se sientan satisfechos con la profundidad de su santidad. Intenten tener siempre una relación más profunda y perfecta Conmigo. Hagan el esfuerzo por encontrar nuevas formas de agradarme. Busquen sus deficiencias en la obediencia a Mis mandamientos. Es Satanás quien quiere mantenerlos satisfechos y convencerlos de que todo se mantiene igual en su viaje espiritual."

"Confíenme los deseos que tengan en la vida. Yo quiero ayudarlos a que los consigan, si es conforme a Mi Divina Voluntad. Yo atesoro cada sacrificio que me dan desinteresadamente por el bien de los demás. Sus sacrificios son una manera fuerte de agradarme."

"Entréguenme todo lo que haya en su rutina diaria. Así es como embellecen sus almas. Así es como Yo los ayudo a encontrar la verdad."

Lean 2ª Tesalonicenses 2:13-15




Nosotros, por nuestra parte, siempre debemos dar gracias a Dios, a causa de ustedes, hermanos amados por el Señor. En efecto, Dios los eligió desde el principio para que alcanzaran la salvación mediante la acción santificadora del Espíritu y la fe en la verdad. Él los llamó, por medio de nuestro Evangelio, para que posean la gloria de nuestro Señor Jesucristo. Por lo tanto, hermanos, manténganse firmes y conserven fielmente las tradiciones que aprendieron de nosotros, sea oralmente o por carta.
RE: Latest messages are at Holy Love Ministries (www.holylove.org) and Ministerios del Amor Santo (www.amorsanto.com)