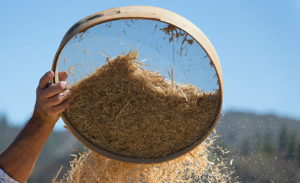 December 19, 2020
Once again, I (Maureen) see a Great Flame that I have come to know as the Heart of God the Father. He says: "Through all of this current turmoil, I am purifying My Remnant and separating the wheat from the chaff. The winnowing fan I am using is My Divine Will. The souls who will not esteem My Will cannot be a part of the ones I am setting aside to proclaim the Truth."

Read Titus 2:11-14+




For the grace of God has appeared for the salvation of all men, training us to renounce irreligion and worldly passions, and to live sober, upright, and godly lives in this world, awaiting our blessed hope, the appearing of the glory of our great God and Savior Jesus Christ, who gave himself for us to redeem us from all iniquity and to purify for himself a people of his own who are zealous for good deeds.




+ Scripture verses asked to be read by be read by God the Father.

 

19 de Diciembre del 2020
Nuevamente veo una gran llama que he llegado a reconocer como el Corazón de Dios Padre. Dice: "A través de toda esta confusión actual, estoy purificando a Mi Resto y separando el trigo de la paja. La cribadora que estoy utilizando es Mi Divina Voluntad. Las almas que no aprecien Mi Voluntad no pueden ser parte de los que estoy reservando para proclamar la verdad."

Lean Tito 2:11-14




Porque la gracia de Dios, que es fuente de salvación para todos los hombres, se ha manifestado. Ella nos enseña a rechazar la impiedad y las concupiscencias del mundo, para vivir en la vida presente con sobriedad, justicia y piedad, mientras aguardamos la feliz esperanza y la Manifestación de la gloria de nuestro gran Dios y Salvador, Cristo Jesús. El se entregó por nosotros, a fin de librarnos de toda iniquidad, purificarnos y crear para sí un Pueblo elegido y lleno en la práctica del bien.
RE: Latest messages are at Holy Love Ministries and Ministerios del Amor Santo