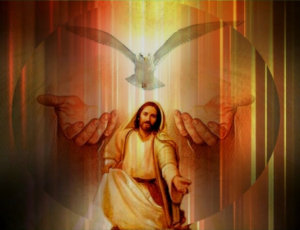 November 5, 2021
Once again, I (Maureen) see a Great Flame that I have come to know as the Heart of God the Father. He says: "This is very important. St. Martin reminded you of it on his Feast Day.* That is, always rely on the grace of the present moment. This grace is supportive, dependable, protective and My Provision. As life unfolds before you, never fear, but with love, patiently await My next move. This is to trust in the present moment grace."

Read Romans 8:28 +




We know that in everything God works for good with those who love him, who are called according to his purpose.

Read Philippians 4:6-7 +




Have no anxiety about anything, but in everything by prayer and supplication with thanksgiving let your requests be made known to God. And the peace of God, which passes all understanding, will keep your hearts and your minds in Christ Jesus.

+ Scripture verse(s) asked to be read by God the Father.

 

5 de Noviembre del 2021
Nuevamente veo una gran llama que he llegado a reconocer como el Corazón de Dios Padre. Dice: "Esto es muy importante. San Martín (san Martín de Porres) te lo recordó en su Festividad. Es muy importante que siempre confíen en la gracia del momento presente. Esta gracia es un apoyo, es confiable, protectora y es Mi provisión. Nunca tengan miedo conforme la vida se va desenvolviendo ante ustedes, sino aguarden Mi siguiente paso con amor y paciencia. Esto es confiar en la gracia del momento presente."

Lean Romanos 8:28




Sabemos, además, que Dios dispone todas las cosas para el bien de los que lo aman, de aquellos que él llamó según su designio.

Filipenses 4:6-7




No se angustien por nada, y en cualquier circunstancia, recurran a la oración y a la súplica, acompañadas de acción de gracias, para presentar sus peticiones a Dios. Entonces la paz de Dios, que supera todo lo que podemos pensar, tomará bajo su cuidado los corazones y los pensamientos de ustedes en Cristo Jesús.
RE: Latest messages are at Holy Love Ministries (www.holylove.org) and Ministerios del Amor Santo (www.amorsanto.com)
Download e-Book!                                                                            ¡Descargar E-Libro!