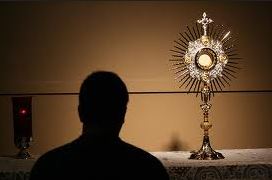 April 6, 2021
Once again, I (Maureen) see a Great Flame that I have come to know as the Heart of God the Father. He says: "Children, your prayers are only as powerful as the trust and forgiveness are perfected in your heart. A powerful prayer arises from a peaceful heart. Such a heart has forgiven everyone. Such a heart trusts that his prayer is being heard. The forgiving, trustful heart has no barrier to acceptance of My Divine Will. He is open to the Truth as it descends from My Heart to embrace the present moment."

"Ask for My help in forgiving and trusting before you quiet your soul to pray. This is the way to see a more fruitful prayer life. It begins in the present moment."

Read Philippians 4:4-7+




Rejoice in the Lord always; again I will say, Rejoice. Let all men know your forbearance. The Lord is at hand. Have no anxiety about anything, but in everything by prayer and supplication with thanksgiving let your requests be made known to God. And the peace of God, which passes all understanding, will keep your hearts and your minds in Christ Jesus.

Read 1 John 3:18-24+




Little children, let us not love in word or speech but in deed and in truth. By this we shall know that we are of the truth, and reassure our hearts before him whenever our hearts condemn us; for God is greater than our hearts, and he knows everything. Beloved, if our hearts do not condemn us, we have confidence before God; and we receive from him whatever we ask, because we keep his commandments and do what pleases him. And this is his commandment, that we should believe in the name of his Son Jesus Christ and love one another, just as he has commanded us. All who keep his commandments abide in him, and he in them. And by this we know that he abides in us, by the Spirit which he has given us.




+ Scripture verses asked to be read by God the Father. (Please note: all Scripture given by Heaven refers to the Bible used by the visionary. Ignatius Press – Holy Bible – Revised Standard Version – Second Catholic Edition.)

 

6 de Abril del 2021
Martes de Pascua
Nuevamente veo una gran llama que he llegado a reconocer como el Corazón de Dios Padre. Dice: "Hijos, sus oraciones son tan poderosas en la medida en que la confianza y el perdón se perfeccionen en sus corazones. Una oración poderosa surge de un corazón lleno de paz. Un corazón así ha perdonado a todos. Un corazón así confía en que su oración está siendo escuchada. En un corazón indulgente y confiado no hay barreras para aceptar Mi Divina Voluntad; está abierto a la verdad que desciende de Mi Corazón para abrazar el momento presente."

"Pidan Mi ayuda para perdonar y confiar antes de serenar sus almas para rezar. Esta es la manera de ver una vida de oración más fructífera, la cual comienza en el momento presente."

Lean Filipenses 4:4-7




Alégrense siempre en el Señor. Vuelvo a insistir, alégrense. Que la bondad de ustedes sea conocida por todos los hombres. El Señor está cerca. No se angustien por nada, y en cualquier circunstancia, recurran a la oración y a la súplica, acompañadas de acción de gracias, para presentar sus peticiones a Dios. Entonces la paz de Dios, que supera todo lo que podemos pensar, tomará bajo su cuidado los corazones y los pensamientos de ustedes en Cristo Jesús.

1ª Juan 3:18-24




Hijitos míos, no amemos con la lengua y de palabra, sino con obras y de verdad. En esto conoceremos que somos de la verdad, y estaremos tranquilos delante de Dios aunque nuestra conciencia nos reproche algo, porque Dios es más grande que nuestra conciencia y conoce todas las cosas. Queridos míos, si nuestro corazón no nos hace ningún reproche, podemos acercarnos a Dios con plena confianza, y él nos concederá todo cuanto le pidamos, porque cumplimos sus mandamientos y hacemos lo que le agrada. Su mandamiento es este: que creamos en el nombre de su Hijo Jesucristo, y nos amemos los unos a los otros como él nos ordenó. El que cumple sus mandamientos permanece en Dios, y Dios permanece en él; y sabemos que él permanece en nosotros, por el Espíritu que nos ha dado.
RE: Latest messages are at Holy Love Ministries (www.holylove.org) and Ministerios del Amor Santo (www.amorsanto.com)