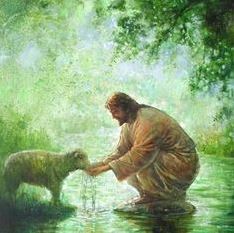 February 26, 2021 ·
Once again, I (Maureen) see a Great Flame that I have come to know as the Heart of God the Father. He says: "Today, I invite all people and all nations to become a part of My Army of Victory. I speak of victory over sin by the free-will choice of the renunciation of sin. Be a soldier of Truth, claiming subjection to My Son, the Lord Jesus Christ and thereby, submission to My Ten Commandments. You cannot claim victory unless you love Me above all else and your neighbor as yourself. To accomplish this, compliance to My First Commandment, you need to practice self-renunciation. Stand apart from selfish ambition which leads to corruption of the heart. In the end, all you have to give Me is the state of your heart as you draw your last breath."

"Change your priorities to focus on Me and love of others. Do not be distracted by how others view you or how you fit into the world. Worldly opinions do not follow you to the grave. Be a part of My Victory now by living the Truth of life according to obedience to My Commandments. I will exonerate you of all your faults at the time of your death."

Read 1 Peter 1:22-23+




Having purified your souls by your obedience to the truth for a sincere love of the brethren, love one another earnestly from the heart. You have been born anew, not of perishable seed but of imperishable, through the living and abiding word of God;

Read 1 John 3:18+
Little children, let us not love in word or speech but in deed and in truth.
+ Scripture verses asked to be read by God the Father.

 

26 de Febrero del 2021
Nuevamente veo una gran llama que he llegado a reconocer como el Corazón de Dios Padre. Dice: "Hoy invito a toda la gente y a todas las naciones a ser parte de Mi ejército de la victoria. Hablo de la victoria sobre el pecado mediante la decisión del libre albedrío de renunciar a pecar. Sean soldados de la verdad profesando la sumisión a Mi Hijo, el Señor Jesucristo y, con ello, la sumisión a Mis Diez Mandamientos. No pueden cantar victoria a menos que me amen a Mí sobre todas las cosas y a su prójimo como a sí mismos. Para lograr esto –el cumplimiento de Mi primer mandamiento–, tienen que practicar la renuncia a sí mismos. Apártense de la ambición egoísta, la cual los lleva a la corrupción del corazón. Al final, todo lo que tienen que entregarme a Mí es el estado de su corazón mientras dan su último aliento."

"Cambien sus prioridades para enfocarse en Mí y en el amor a los demás. No se distraigan por la forma en que los demás los perciben ni por cómo encajan ustedes en el mundo. Las opiniones mundanas no los acompañarán a la tumba. Sean una parte de Mi victoria ahora viviendo la verdad de la vida conforme a la obediencia a Mis mandamientos. Yo los absolveré de todas sus faltas en el momento de su muerte."

Lean 1ª Pedro 1:22-23




Por su obediencia a la verdad, ustedes se han purificado para amarse sinceramente como hermanos. Ámense constantemente los unos a los otros con un corazón puro, como quienes han sido engendrados de nuevo, no por un germen corruptible, sino incorruptible: la Palabra de Dios, viva y eterna.

1ª Juan 3:18
Hijitos míos, no amemos con la lengua y de palabra, sino con obras y de verdad.
RE: Latest messages are at Holy Love Ministries and Ministerios del Amor Santo