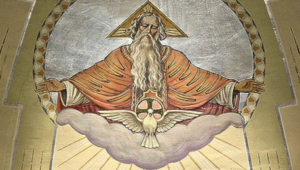 God The Father
November 12, 2020 ·
Once again, I (Maureen) see a Great Flame that I have come to know as the Heart of God the Father. He says: "Children, solemnly I tell you, this nation* – land of the free and home of the brave – must more clearly define its election process by law or it will lose its identity as a free nation. It has been too easy for the mass media to choose its candidate and push him into the Office of President. The agenda of the media then becomes the agenda of the U.S. government. The media is controlled by outside forces – forces with their own agenda for the future of the world. If this newly-chosen candidate is placed in the White House, you will slowly see your nation lose its identity in favor of global policies. Once again, I warn you, be careful as to what and who unites you – be united in prayer – be united as a free nation. Do not be united as part of a One World Order which paves the way for the Antichrist."

"Do not be guided by the mass media which is basically Satan's instrument."

Read 2 Thessalonians 2:9-12+

The coming of the lawless one by the activity of Satan will be with all power and with pretended signs and wonders, and with all wicked deception for those who are to perish, because they refused to love the Truth and so be saved. Therefore, God sends upon them a strong delusion, to make them believe what is false, so that all may be condemned who did not believe the Truth but had pleasure in unrighteousness.

+ Scripture verses asked to be read by God the Father.

 

Dios el padre
12 de noviembre de 2020
Una vez más, yo (Maureen) veo una Gran Llama que he llegado a conocer como el Corazón de Dios Padre. Dice: "Niños, les digo solemnemente, esta nación * – tierra de los libres y hogar de los valientes – debe definir más claramente su proceso electoral por ley o perderá su identidad como nación libre. Ha sido demasiado fácil para que los medios de comunicación elijan a su candidato y lo empujen al cargo de presidente. La agenda de los medios se convierte entonces en la agenda del gobierno de los Estados Unidos. Los medios de comunicación están controlados por fuerzas externas, fuerzas con su propia agenda para el futuro del mundo. . Si se coloca a este candidato recién elegido en la Casa Blanca, poco a poco verás que tu nación pierde su identidad a favor de las políticas globales. Una vez más, te advierto, ten cuidado con qué y quién te une: únete en oración – únete como una nación libre. No te unas como parte de un Orden Mundial Único que allana el camino para el Anticristo ".

"No te dejes guiar por los medios de comunicación, que son básicamente el instrumento de Satanás".

Lea 2 Tesalonicenses 2: 9-12 +

La venida del inicuo por la actividad de Satanás será con todo poder y con señales y prodigios fingidos, y con todo engaño perverso para aquellos que han de perecer, porque rehusaron amar la Verdad y así ser salvos. Por tanto, Dios envía sobre ellos un fuerte engaño, para hacerles creer lo que es falso, para que sean condenados todos los que no creyeron en la Verdad, sino que se complacieron en la injusticia.

+ Los versículos de las Escrituras pidieron ser leídos por Dios el Padre.
RE: Latest messages are at Holy Love Ministries and Ministerios del Amor Santo