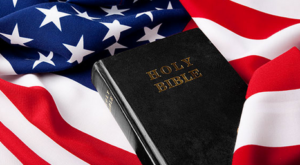 November 19, 2020
Once again, I (Maureen) see a Great Flame that I have come to know as the Heart of God the Father. He says: "Children, these days, everything that smacks of national pride is under attack by Satan and the leftists, who seek to destroy your national identity. This is their way of promoting the One World Order. The celebration of Thanksgiving* is their latest victim of attack. Thanksgiving hearkens back to the founding of your country,** when the pilgrims gathered to celebrate their God-given harvest.*** The leftists do not want people to gather in thanksgiving for My Provision, so they are using COVID**** as a reason not to draw together to celebrate this holiday. Do not be a victim of this latest campaign against national pride. Be thankful for My generosity to yourselves and your nation as a whole. I am watching over your country now more than ever during this time of confusion Satan has sewn in hearts. Do not allow your opinions to be formed by leftist propaganda. With patriotic pride, celebrate Thanksgiving."Read Colossians 2:8-10 +
See to it that no one makes a prey of you by philosophy and empty deceit, according to human tradition, according to the elemental spirits of the universe, and not according to Christ. For in him the whole fulness of deity dwells bodily, and you have come to fulness of life in him, who is the head of all rule and authority.+ Scripture verse(s) asked to be read by God the Father. (Please note: all Scripture given by Heaven refers to the Bible used by the visionary. Ignatius Press – Holy Bible – Revised Standard Version – Second Catholic Edition. )

* Thanksgiving Day – Thursday, November 26, 2020.
** U.S.A.
*** The 1621 celebration at the Plymouth Plantation, where the settlers held a harvest feast after a successful growing season.
**** COVID-19.

 

19 de Noviembre del 2020
Nuevamente veo una gran llama que he llegado a reconocer como el Corazón de Dios Padre. Dice: "Hijos, en estos días, todo lo que denote orgullo nacional está bajo ataque por parte de Satanás y de los de la izquierda, los cuales buscan destruir la identidad nacional. Esta es la forma que tienen de promover el Orden Mundial Único. La celebración del Día de Acción de Gracias es su víctima actual. Esta celebración se remonta a la fundación de su País, cuando los peregrinos se reunían para celebrar la cosecha que Dios les había dado. Los de la izquierda no quieren que las personas se reúnan para agradecer Mi provisión, así que están usando el COVID como una razón para que no se reúnan a celebrar esta festividad. No sean víctimas de esta reciente campaña en contra del orgullo nacional. Agradezcan Mi generosidad con ustedes y con su Nación en general. Estoy velando por su País ahora más que nunca durante este tiempo de confusión que Satanás ha adherido a los corazones. No permitan que la propaganda de la izquierda forme sus opiniones. Celebren el Día de Acción de Gracias con orgullo patrio."Lean Colosenses 2:8-10
No se dejen esclavizar por nadie con la vacuidad de una engañosa filosofía, inspirada en tradiciones puramente humanas y en los elementos del mundo, y no en Cristo. Porque en él habita corporalmente toda la plenitud de la divinidad, y ustedes participan de esa plenitud de Cristo, que es la Cabeza de todo Principado y de toda Potestad.
RE: Latest messages are at Holy Love Ministries and Ministerios del Amor Santo