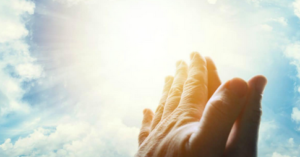 October 23, 2021
Once again, I (Maureen) see a Great Flame that I have come to know as the Heart of God the Father. He says: "Children, you face no cross or trial that I am unaware of. Every cross is given as a grace to draw you closer to Me. Be dependent upon Me to bring order to chaos – good from hopelessness. My solutions are often not your own, but always My Will is to bring you closer to Me.""Be united in prayer for this brings you comfort and often strength that you did not know you had. The best outcome of any situation is always My Will. I help you through problems that seem unsolvable. I am your light in darkness. Every decision you must make should be the fruit of much prayer.""No problem is the fault of past sin but perhaps the result of sin and My Call to return to Me. I do not hold grudges. I love each soul beyond all telling and I am constantly calling souls to come closer to Me."

Read 1 Timothy 2:1-4+

First of all, then, I urge that supplications, prayers, intercessions, and thanksgivings be made for all men, for kings and all who are in high positions, that we may lead a quiet and peaceable life, godly and respectful in every way. This is good, and it is acceptable in the sight of God our Savior, who desires all men to be saved and to come to the knowledge of the truth.

+ Scripture verses asked to be read by God the Father.

 

23 de Octubre del 2021
Mensaje Público
Nuevamente veo una gran llama que he llegado a reconocer como el Corazón de Dios Padre. Dice: "Hijos, ustedes no enfrentan ninguna cruz o prueba que Yo desconozca. Cada cruz se da como una gracia para atraerlos más cerca de Mí. Dependan de Mí para poner orden en el caos y para sacar un bien de la desesperanza. Con frecuencia, Mis soluciones no son las suyas, pero Mi Voluntad siempre es que se acerquen más a Mí.""Estén unidos en la oración, porque esto les da consuelo y a menudo les da la fuerza que no sabían que tenían. El mejor resultado de cualquier situación es siempre Mi Voluntad. Yo los ayudo en los problemas que parecen no tener solución. Yo soy su luz en la oscuridad. Cada decisión que deben tomar tiene que ser fruto de mucha oración.""Ningún problema es culpa de pecados pasados, sino quizá es el resultado del pecado y de Mi llamado a regresar a Mí. Yo no guardo rencor. Yo amo a cada alma más allá de toda expresión y constantemente invito a las almas a acercarse más a Mí."

Lean 1ª Timoteo 2:1-4




Ante todo, te recomiendo que se hagan peticiones, oraciones, súplicas y acciones de gracias por todos los hombres, por los soberanos y por todas las autoridades, para que podamos disfrutar de paz y de tranquilidad, y llevar una vida piadosa y digna. Esto es bueno y agradable a Dios, nuestro Salvador, porque él quiere que todos se salven y lleguen al conocimiento de la verdad.
RE: Latest messages are at Holy Love Ministries (www.holylove.org) and Ministerios del Amor Santo (www.amorsanto.com)