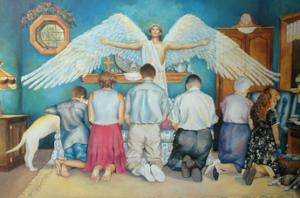 February 3, 2021
Once again, I (Maureen) see a Great Flame that I have come to know as the Heart of God the Father. He says: "Children, I wish to implant in every heart the desire to be holy. These days, folks have many ambitions in their hearts – most of them selfish ambitions towards a comfortable existence in the world. People do not accept in their hearts that their earthly existence is passing. The goal of the heart should be to become holy and thereby gain merit in the hereafter.""Build up Heavenly treasure through your efforts in prayer and sacrifice – through selflessness and most importantly through Holy Love. This 'Heavenly bank account' is the only thing that will follow you into the next life. Do not let the passions of your heart be worldly – but holy ambitions. If you do this, all things will fall into focus. You will not waste precious time on worry, greed or any concern centered on your earthly well-being. Charity and trust will carry you into the next life which I will share with you."


Read Colossians 3:1-4+

If then you have been raised with Christ, seek the things that are above, where Christ is, seated at the right hand of God. Set your minds on things that are above, not on things that are on earth.

 

3 de Febrero del 2021
Nuevamente veo una gran llama que he llegado a reconocer como el Corazón de Dios Padre. Dice: "Hijos, quiero implantar en cada corazón el deseo de ser santos. En la actualidad, la gente tiene muchas ambiciones en sus corazones; la mayoría de ellas son ambiciones egoístas en aras de una existencia confortable en el mundo. Las personas no aceptan en sus corazones que su existencia terrenal es pasajera. La meta del corazón debe ser la santidad y así ganar méritos en el más allá.""Construyan un tesoro celestial con sus esfuerzos en la oración y el sacrificio, por medio del desinterés propio y, lo más importante, a través del Amor Santo. Esta 'cuenta bancaria celestial' es lo único que los acompañará a la otra vida. No dejen que las pasiones del corazón sean ambiciones mundanas, sino santas. Si hacen esto, todo estará claro, no desperdiciarán el valioso tiempo en preocupaciones, resentimientos, ni en cualquier inquietud centrada en su bienestar terrenal. La caridad y la confianza los llevará a la otra vida que Yo compartiré con ustedes."

Lean Colosenses 3:1-4




Ya que ustedes han resucitado con Cristo, busquen los bienes del cielo donde Cristo está sentado a la derecha de Dios. Tengan el pensamiento puesto en las cosas celestiales y no en las de la tierra. Porque ustedes están muertos, y su vida está desde ahora oculta con Cristo en Dios. Cuando se manifieste Cristo, que es nuestra vida, entonces ustedes también aparecerán con él, llenos de gloria.
RE: Latest messages are at Holy Love Ministries and Ministerios del Amor Santo