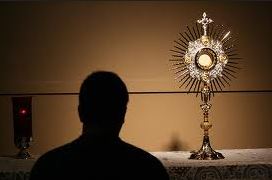 January 20, 2021
Once again, I (Maureen) see a Great Flame that I have come to know as the Heart of God the Father. He says: "Children, I, your Eternal Now, understand the heart of your nation. You will always be one nation, under My Domain. Unfortunately, leadership of this great nation* will not legislate now in agreement with what the soul of the nation wants. Many edicts will be in place to weaken this country spiritually, economically and in belief in the Truth. The word 'Truth' is already being profaned. This is why I tell you, build your 'house' of personal holiness strong in the real Truth. Obey My Commandments. Be united in love of Me. Those who do so, will never be a part of a New World Order in their hearts. They will be part of the army of victory of the genuine Truth. Do not focus on what you no longer can do, but on the power of prayer which is your strongest weapon against evil."

"If you believe you are defeated, then you are defeated. Believe in the power of prayer. This is the Victory of good over evil."

Read Philippians 2:1-2+

So if there is any encouragement in Christ, any incentive of love, any participation in the Spirit, any affection and sympathy, complete my joy by being of the same mind, having the same love, being in full accord and of one mind.

Read Philippians 4:4-7+

Rejoice in the Lord always; again I will say, Rejoice. Let all men know your forbearance. The Lord is at hand. Have no anxiety about anything, but in everything by prayer and supplication with thanksgiving let your requests be made known to God. And the peace of God, which passes all understanding, will keep your hearts and your minds in Christ Jesus.

+ Scripture verses asked to be read by God the Father.

 

20 de Enero del 2021
Nuevamente veo una gran llama que he llegado a reconocer como el Corazón de Dios Padre. Dice: "Hijos, Yo, su Eterno Ahora, comprendo el corazón de su Nación. Ustedes serán siempre una nación bajo Mi dominio. Desafortunadamente, el liderazgo de esta gran nación no legislará ahora de acuerdo con lo que el alma de la nación quiere. Habrá muchos edictos para debilitar a este País espiritualmente, económicamente y en la fe en la verdad. La palabra 'verdad' ya está siendo profanada. Por eso les digo, construyan su casa de la santidad personal de manera sólida en la verdad auténtica. Obedezcan Mis mandamientos. Estén unidos en el amor a Mí. Quienes así lo hagan, en sus corazones nunca serán parte de un Nuevo Orden Mundial. Serán parte del ejército de la victoria de la verdad genuina. No se enfoquen en lo que ya no pueden hacer, sino en el poder de la oración, el cual es su arma más grande contra el mal."

"Si ustedes creen que están derrotados, entonces están derrotados. Crean en el poder de la oración. Esta es la victoria del bien sobre el mal."

Lean Filipenses 2:1-2




Si la exhortación en nombre de Cristo tiene algún valor, si algo vale el consuelo que brota del amor o la comunión en el Espíritu, o la ternura y la compasión, les ruego que hagan perfecta mi alegría, permaneciendo bien unidos. Tengan un mismo amor, un mismo corazón, un mismo pensamiento.

Filipenses 4:4-7
Alégrense siempre en el Señor. Vuelvo a insistir, alégrense. Que la bondad de ustedes sea conocida por todos los hombres. El Señor está cerca. No se angustien por nada, y en cualquier circunstancia, recurran a la oración y a la súplica, acompañadas de acción de gracias, para presentar sus peticiones a Dios. Entonces la paz de Dios, que supera todo lo que podemos pensar, tomará bajo su cuidado los corazones y los pensamientos de ustedes en Cristo Jesús.
RE: Latest messages are at Holy Love Ministries and Ministerios del Amor Santo