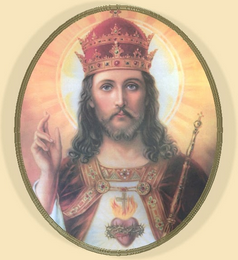 Feast of Christ the King
November 22, 2020
Once again, I (Maureen) see a Great Flame that I have come to know as the Heart of God the Father. He says: "Children, discover the Truth and cling to it tenaciously. Do not be talked out of the Truth by anyone – even one of high station in the world. Remember always, it is not the position or wealth which I look at. I look only at what is in the heart. This is the hour of great confusion in the world – the time when people who used to be trustworthy have now abandoned the Truth. Therefore, look very carefully at who is a leader; for title does not make a person honest. Only what the person carries in his heart determines his honesty and faithfulness to the Truth."

"Have grateful hearts for the freedoms you have been given. At the same time, take nothing for granted. Your freedoms can easily slip away from you through dishonest politics which have taken charge of this election.* Do not cease to be patriotic. Revere your country's** history."

"Your strength is in the Truth. Pray to always see the Truth – search it out and do not be tricked by the media which is an unworthy source of information."

Read 2 Timothy 4:1-5+

I charge you in the presence of God and of Christ Jesus who is to judge the living and the dead, and by his appearing and his kingdom: preach the word, be urgent in season and out of season, convince, rebuke, and exhort, be unfailing in patience and in teaching. For the time is coming when people will not endure sound teaching, but having itching ears they will accumulate for themselves teachers to suit their own likings, and will turn away from listening to the truth and wander into myths. As for you, always be steady, endure suffering, do the work of an evangelist, fulfil your ministry.

+ Scripture verses asked to be read by God the Father.

 

22 de Noviembre del 2020
Nuevamente veo una gran llama que he llegado a reconocer como el Corazón de Dios Padre. Dice: "Hijos, descubran la verdad, y aférrense a ella con tenacidad. Que nadie los haga desistir de la verdad, ni siquiera alguien de alta posición en el mundo. Recuerden siempre que Yo no me fijo en el estado de riqueza. Yo solamente veo lo que hay en el corazón. Esta es la hora de gran confusión en el mundo; es el tiempo en el que las personas que solían ser dignas de confianza, ahora han abandonado la verdad. Por lo tanto, observen cuidadosamente quién es un líder, porque el título no hace honesta a la persona. Solamente lo que la persona tenga en su corazón determina su honestidad y fidelidad a la verdad."

"Tengan corazones agradecidos por las libertades que se les han dado. Al mismo tiempo, no den nada por sentado. Sus libertades pueden desaparecer fácilmente por políticos deshonestos que se han apoderado de estas elecciones. No dejen de ser patriotas. Honren la historia de su País."

"Su fuerza está en la verdad. Recen pidiendo ver siempre la verdad, investiguen y no dejen que los engañen los medios de comunicación, los cuales son una mala fuente de información."

Lean 2ª Timoteo 4:1-5




Yo te conjuro delante de Dios y de Cristo Jesús, que ha de juzgar a los vivos y a los muertos, y en nombre de su Manifestación y de su Reino: proclama la Palabra de Dios, insiste con ocasión o sin ella, arguye, reprende, exhorta, con paciencia incansable y con afán de enseñar. Porque llegará el tiempo en que los hombres no soportarán más la sana doctrina; por el contrario, llevados por sus inclinaciones, se procurarán una multitud de maestros que les halaguen los oídos, y se apartarán de la verdad para escuchar cosas fantasiosas. Tú, en cambio, vigila atentamente, soporta todas las pruebas, realiza tu tarea como predicador del Evangelio, cumple a la perfección tu ministerio.
RE: Latest messages are at Holy Love Ministries and Ministerios del Amor Santo