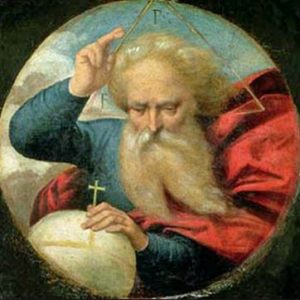 February 4, 2021
Once again, I (Maureen) see a Great Flame that I have come to know as the Heart of God the Father. He says: "Personal holiness requires a conscious effort. Choices in thought, word and deed need to focus on pleasing Me. Satan knows every soul's weaknesses and uses these failings as a port of entry to lead the soul off guard and into sin. Therefore, it behooves each soul to know his weaknesses and to strive to overcome them."

"Think of your soul as a beautiful strand of pearls to be admired by all. If, however, there is a weakness in the strand, all the pearls slide off and are lost. So, it is with your journey in salvation. The soul may lead an exemplary life, but gives into one sin repeatedly. All else is in vain due to this one sin that he cannot conquer. Each soul needs to pray for self-knowledge and insight as to where he is on the road to salvation. Self-knowledge as to the state of his soul before Me is the most important aspect of the soul's quest for salvation."

"Any sin or failing, no matter its repetition, is forgiven by Me if the soul has a repentant heart. The effort must be made by the soul to see his weaknesses, for he cannot increase in personal holiness until he does so. Salvation is obtained through personal holiness, even if personal holiness is only a goal as the soul draws his last breath."

Read Ephesians 5:1-2+

Therefore be imitators of God, as beloved children. And walk in love, as Christ loved us and gave himself up for us, a fragrant offering and sacrifice to God.

+ Scripture verses asked to be read by God the Father.

 

4 de Febrero del 2021
Nuevamente veo una gran llama que he llegado a reconocer como el Corazón de Dios Padre. Dice: "La santidad personal requiere un esfuerzo consciente. Es necesario que las decisiones de pensamiento, palabra y obra se centren en agradarme a Mí. Satanás conoce las debilidades de todas las almas, y utiliza esas fallas como un puerto de entrada para llevarlas a estar desprevenidas y hacia el pecado. Por lo tanto, es necesario que cada alma conozca sus debilidades y se esfuerce por superarlas."

"Piensen en su alma como un hermoso collar de perlas que todos admiran. Sin embargo, si el hilo del collar tiene una debilidad, todas las perlas se salen y se pierden. Lo mismo pasa con su viaje a la salvación. El alma puede llevar una vida ejemplar, pero constantemente cae en un pecado. Todo lo demás es en vano por culpa de este pecado que no puede vencer. Cada alma necesita rezar pidiendo autoconocimiento e introspección en cuanto a dónde se encuentra en el camino a la salvación. Conocer el estado de su alma ante Mí es el aspecto más importante en la búsqueda de la salvación."

"Yo perdono cualquier pecado o falla, independientemente de su reincidencia, si el alma tiene un corazón contrito. El alma tiene que hacer el esfuerzo por ver sus debilidades, porque no puede crecer en la santidad si no lo hace. La salvación se obtiene por medio de la santidad personal, incluso si la santidad personal es solamente una meta mientras el alma da su último aliento."

Lean Efesios 5:1-2
Traten de imitar a Dios, como hijos suyos muy queridos. Vivan en el amor, a ejemplo de Cristo, que nos amó y se entregó por nosotros, como ofrenda y sacrificio agradable a Dios.
RE: Latest messages are at Holy Love Ministries and Ministerios del Amor Santo