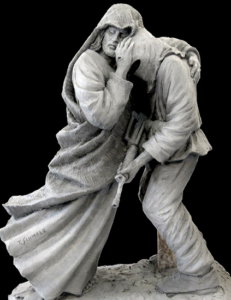 February 18, 2021
Once again, I (Maureen) see a Great Flame that I have come to know as the Heart of God the Father. He says: "As we journey into this penitential season,* let us carry in our hearts some parameters for sacrifices. Sometimes the best way to sacrifice is just to lovingly accept all the day offers. No sacrifice is worthy without love in the heart. Too much emphasis is placed on 'giving up' things the soul enjoys and not enough emphasis is on the positive effort of taking on charitable works such as helping those in need, praying more – even reading inspirational works. The love with which any sacrifice is offered is more important in making it worthy than the sacrifice itself."

"Self-abnegation should not deplete physical well-being. Have respect for the body I created. Choose sacrifices more pleasing to Me such as loving your enemies and practicing forgiveness. We can make this journey together as long as Holy Love permeates your heart. That must be the firm basis of each sacrifice."

Read 1 Corinthians 13:4-7,13+

Love is patient and kind; love is not jealous or boastful; it is not arrogant or rude. Love does not insist on its own way; it is not irritable or resentful; it does not rejoice at wrong, but rejoices in the right. Love bears all things, believes all things, hopes all things, endures all things. . . So faith, hope, love abide, these three; but the greatest of these is love.

+ Scripture verses asked to be read by God the Father.

 

18 de Febrero del 2021
Nuevamente veo una gran llama que he llegado a reconocer como el Corazón de Dios Padre. Dice: "Conforme avanzamos en este tiempo penitencial, tengamos en nuestros corazones algunos parámetros para hacer sacrificios. Algunas veces, la mejor manera de hacer sacrificios es simplemente aceptar con amor todo lo que el día presente. Ningún sacrificio es meritorio si no hay amor en el corazón. Se pone demasiado énfasis en 'renunciar' a cosas que el alma disfruta, y no se pone suficiente énfasis en el esfuerzo positivo de realizar obras de caridad, tales como ayudar a los necesitados, rezar más, incluso leer obras edificantes. Para que sea meritorio cualquier sacrificio, es más importante el amor con que se ofrece que el sacrificio mismo."

"El sacrificio no debe mermar su bienestar físico. Respeten el cuerpo que Yo creé. Elijan sacrificios más agradables para Mí, como amar a sus enemigos y practicar el perdón. Podemos hacer este viaje juntos si el Amor Santo impregna sus corazones. Eso tiene que ser la base firme de cada sacrificio."

Lean 1ª Corintios 13:4-7, 13




El amor es paciente, es servicial; el amor no es envidioso, no hace alarde, no se envanece, no procede con bajeza, no busca su propio interés, no se irrita, no tiene en cuenta el mal recibido, no se alegra de la injusticia, sino que se regocija con la verdad. El amor todo lo disculpa, todo lo cree, todo lo espera, todo lo soporta. …En una palabra, ahora existen tres cosas: la fe, la esperanza y el amor, pero la más grande de todas es el amor.
RE: Latest messages are at Holy Love Ministries and Ministerios del Amor Santo