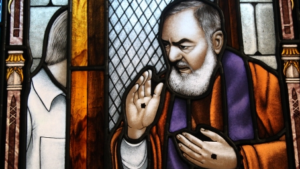 Blessed Virgin Mary
Feast of The Presentation of the Blessed Virgin Mary
November 21, 2021
The Blessed Virgin Mary says: "Praise be to Jesus"

"Dear children, begin this day – the Feast of the Presentation in the Temple – as though you yourselves were being presented in the temple of Truth. Cleanse your outer being and your hearts to be beautifully clothed in the Father's Divine Will. Prepare interiorly to leave the world behind, so that your hearts could be filled with the best appreciation of what the Father asks of you."

"Do not sorrow for any former attachment in the world, but with joy await every new grace you will receive as children of the Truth. Your new home in the temple of My Heart will offer you every security and you will be in a constant state of well-being. Love of My Father's Will shall be your constant fulfillment. Oh, how I long for these days as yet to come."

"Until this time is present on earth, allow Me, your Heavenly Mother, to continually prepare your hearts in such a way as to be ready for your presentation in the temple of Truth which is one with your moment of judgment. Accept the guiding hand of your angels and obey their inspirations. I am waiting for you today and tomorrow."

Read Psalm 15:1-5+

O LORD, who shall sojourn in your tent?
Who shall dwell on your holy mountain?
He who walks blamelessly, and does what is right,
and speaks truth from his heart;
who does not slander with his tongue,
and does no evil to his friend,
nor takes up a reproach against his neighbor;
in whose eyes a reprobate is despised,
but who honors those who fear the LORD;
who swears to his own hurt and does not change;
who does not put out his money at interest,
and does not take a bribe against the innocent.
He who does these things shall never be moved.

+ Scripture verses asked to be read by the Blessed Virgin Mary.

 

21 de Noviembre del 2021
La Santísima Virgen María dice: "Alabado sea Jesús."

"Queridos hijos, comiencen este día (Festividad de la Presentación de María) como si ustedes mismos estuvieran siendo presentados en el templo de la verdad. Limpien su exterior y sus corazones para que estén hermosamente revestidos de la Divina Voluntad del Padre. Prepárense interiormente para dejar el mundo atrás, de manera que sus corazones puedan llenarse con una mejor apreciación de lo que el Padre les pide."

"No sufran por ningún apego mundano del pasado, sino esperen con alegría cada nueva gracia que recibirán como hijos de la verdad. Su nueva casa en el templo de Mi Corazón les ofrecerá toda la seguridad y estarán en un constante estado de bienestar. El amor por la Voluntad de Mi Padre tiene que ser un cumplimiento constante. Oh, cuánto anhelo estos días por venir."

"Hasta que este tiempo esté presente en la tierra, dejen que Yo, su Madre Celestial, prepare continuamente sus corazones de tal manera que estén listos para presentarse en el templo de la verdad, el cual que es uno con el momento de su juicio. Acepten la mano auxiliadora de sus ángeles y obedezcan sus inspiraciones. Los espero hoy y siempre."

Lean Salmo 15:1-5




Señor, ¿quién se hospedará en tu Carpa?, ¿quién habitará en tu santa Montaña? El que procede rectamente y practica la justicia; el que dice la verdad de corazón y no calumnia con su lengua. El que no hace mal a su prójimo ni agravia a su vecino, el que no estima a quien Dios reprueba y honra a los que temen al Señor. El que no se retracta de lo que juró, aunque salga perjudicado; el que no presta su dinero a usura ni acepta soborno contra el inocente. El que procede así, nunca vacilará.
RE: Latest messages are at Holy Love Ministries (www.holylove.org) and Ministerios del Amor Santo (www.amorsanto.com)