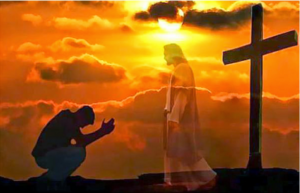 August 13, 2021
Once again, I (Maureen) see a Great Flame that I have come to know as the Heart of God the Father. He says: "Clothe your prayers in the firm belief that I am listening and know what is best for you. It is this kind of faithful prayer that could change the world. Your nation* now is not being led by anyone close to me. As a result of this poor leadership, you have the advancement of evil in a nation that once was safe (Afghanistan). This atheistic control of your government is challenging domestic peace, as well as, your economic security. Many place their faith and security in a vaccine instead of Me. Meanwhile, blanket approval of abortion is being lauded by this leadership. The strength of your natural resources is being dismantled. The government wants to weaken your nation in order to bring it into the One World Order which is the masterpiece of the Antichrist."

"These are reasons why you must pray with a strong faith so that the voice of good can be victorious. Pray that technology does not still the voice of faith-filled opinions."

Read 2 Thessalonians 2:9-12 +




The coming of the lawless one by the activity of Satan will be with all power and with pretended signs and wonders, and with all wicked deception for those who are to perish, because they refused to love the Truth and so be saved. Therefore, God sends upon them a strong delusion, to make them believe what is false, so that all may be condemned who did not believe the Truth but had pleasure in unrighteousness.

+ Scripture verse(s) asked to be read by God the Father.

 

13 de Agosto del 2021
Nuevamente veo una gran llama que he llegado a reconocer como el Corazón de Dios Padre. Dice: "Cubran sus oraciones con la firme convicción de que Yo escucho y sé lo que es mejor para ustedes. Este tipo de fiel oración es la que podría cambiar el mundo. Ahora su Nación no está siendo liderada por nadie cercano a Mí. Como resultado de este pobre liderazgo, tienen el mal avanzando en una nación que alguna vez fue una nación segura (Afganistán). Este control ateo de su gobierno está desafiando la paz nacional, así como su seguridad económica. Muchos ponen su fe y su seguridad en una vacuna en vez de ponerla en Mí. Mientras tanto, la aprobación general del aborto está siendo aclamada por este liderazgo. La fuerza de sus recursos naturales se está disolviendo. El gobierno quiere debilitar su Nación para poder llevarla al Orden Mundial Único, que es la obra maestra del anticristo."

"Por estas razones tienen que rezar con una fe fuerte para que la voz de los buenos pueda triunfar. Recen para que la tecnología no silencie la voz de las opiniones llenas de fe."

Lean 2ª Tesalonicenses 2:9-12




La venida del Impío será provocada por la acción de Satanás y está acompañada de toda clase de demostraciones de poder, de signos y falsos milagros, y de toda clase de engaños perversos, destinados a los que se pierden por no haber amado la verdad que los podía salvar. Por eso, Dios les envía un poder engañoso que les hace creer en la mentira, a fin de que sean condenados todos los que se negaron a creer en la verdad y se complacieron en el mal.
RE: Latest messages are at Holy Love Ministries (www.holylove.org) and Ministerios del Amor Santo (www.amorsanto.com)