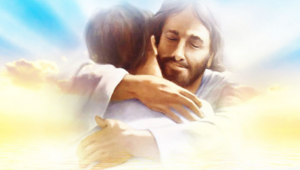 June 1, 2021
Once again, I (Maureen) see a Great Flame that I have come to know as the Heart of God the Father. He says: "These are the days of My Mercy. It is the hour of My calling all My children back into the reality of My Dominion over them. Consequently, many events will take place as a means of helping souls to realize their dependency upon Me. Many such events have already occurred – weather-related events, government corruption and more. In My Mercy, I desire all souls be convinced that I am the ultimate Divine Provider.""When human efforts fail you, I am always there with My Divine Provision. I act through people, many of whom are My chosen instruments in the world. Those who are given Heavenly Wisdom have already realized these Truths. To many others, their hearts are consumed by gods of the world – prideful dependence on self and things of the world. I am the inner strength you must depend upon in your desperate needs."

"Learn to include Me in your decisions. Come into My Paternal Heart as a trusting child runs into the arms of his father. I have the solutions you seek. Often, they come in unexpected ways, but stay close to Me and you will recognize My Divine Provision."

Read Psalm 4:1-3+

Answer me when I call, O God of my right!

You have given me room when I was in distress.

Be gracious to me, and hear my prayer.

O sons of men, how long will you be dull of heart?

How long will you love vain words, and seek after lies?

But know that the Lord has set apart the godly for himself;

the Lord hears when I call to him.

+ Scripture verses asked to be read by God the Father.

 

1º de Junio del 2021
Nuevamente veo una gran llama que he llegado a reconocer como el Corazón de Dios Padre. Dice: "Estos son los tiempos de Mi misericordia. Es la hora de Mi llamado a todos Mis hijos para que regresen a la realidad de Mi dominio sobre ellos. Por lo tanto, sucederán muchos acontecimientos como un medio para ayudar a las almas a darse cuenta de que dependen de Mí. Ya han sucedido muchos de esos acontecimientos; acontecimientos relacionados con el clima, con la corrupción del gobierno y más. En Mi misericordia, Yo quiero que todas las almas se convenzan de que Yo soy el Divino Proveedor supremo.""Cuando los esfuerzos humanos les fallan, Yo siempre estoy ahí con Mi Divina Provisión. Yo actúo a través de las personas, muchas de las cuales son Mis instrumentos elegidos en el mundo. Quienes han recibido sabiduría celestial ya se han dado cuenta de estas verdades. Para muchos otros, sus corazones están consumidos por los dioses del mundo; por la orgullosa dependencia de sí mismos y de las cosas del mundo. Yo soy la fuerza interna de la que deben depender en sus necesidades apremiantes."

"Aprendan a incluirme en sus decisiones. Vengan a Mi Corazón Paternal como un niño confiado corre a los brazos de su padre. Yo tengo las soluciones que buscan. Con frecuencia, estas llegan de maneras inesperadas, pero quedándose cerca de Mí reconocerán Mi Divina Provisión."

Lean el Salmo 4:2-4




Respóndeme cuando te invoco, Dios, mi defensor, tú, que en la angustia me diste un desahogo: ten piedad de mí y escucha mi oración. Y ustedes, señores, ¿hasta cuando ultrajarán al que es mi Gloria, amarán lo que es falso y buscarán lo engañoso? Sepan que el Señor hizo maravillas por su amigo: él me escucha siempre que lo invoco.
RE: Latest messages are at Holy Love Ministries (www.holylove.org) and Ministerios del Amor Santo (www.amorsanto.com)