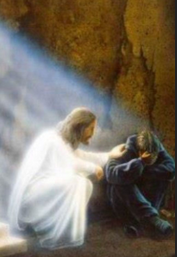 August 26, 2021
Once again, I (Maureen) see a Great Flame that I have come to know as the Heart of God the Father. He says: "No matter the circumstance, I am always in your midst – embracing you and comforting you. This life is preparation for your life which is eternal. It is not a chance to indulge in the pleasantries of the world – comforts, fun, wealth or popularity. These are all passing. The more you spend your life on earth as the end-of-all pleasures, the less you will enjoy Heaven – if you are saved."

"Confine your affections to Me and all I provide for you to enjoy. This is the love that will save you."

Read Colossians 3:1-10+

If then you have been raised with Christ, seek the things that are above, where Christ is, seated at the right hand of God. Set your minds on things that are above, not on things that are on earth. For you have died, and your life is hid with Christ in God. When Christ who is our life appears, then you also will appear with him in glory. Put to death therefore what is earthly in you: immorality, impurity, passion, evil desire, and covetousness, which is idolatry. On account of these the wrath of God is coming upon the sons of disobedience. In these you once walked, when you lived in them. But now put them all away: anger, wrath, malice, slander, and foul talk from your mouth. Do not lie to one another, seeing that you have put off the old nature with its practices and have put on the new nature, which is being renewed in knowledge after the image of its creator.

+ Scripture verses asked to be read by God the Father.

 

26 de Agosto del 2021
Nuevamente veo una gran llama que he llegado a reconocer como el Corazón de Dios Padre. Dice: "Sin importar las circunstancias, Yo siempre estoy en medio de ustedes, abrazándolos y consolándolos. Esta vida es una preparación para la vida que es eterna. No es una oportunidad para darse gusto con las amenidades del mundo: comodidades, diversión, riqueza o popularidad. Todo eso es pasajero. Mientras más pasen su vida en la tierra como el lugar donde acaban todos los placeres, menos disfrutarán del Cielo; si se salvan."

"Limiten sus afectos para Mí y todo lo que Yo proveo para que disfruten. Este es el amor que los salvará."

Lean Colosenses 3:1-10




Ya que ustedes han resucitado con Cristo, busquen los bienes del cielo donde Cristo está sentado a la derecha de Dios. Tengan el pensamiento puesto en las cosas celestiales y no en las de la tierra. Porque ustedes están muertos, y su vida está desde ahora oculta con Cristo en Dios. Cuando se manifieste Cristo, que es nuestra vida, entonces ustedes también aparecerán con él, llenos de gloria. Por lo tanto, hagan morir en sus miembros todo lo que es terrenal: la lujuria, la impureza, la pasión desordenada, los malos deseos y también la avaricia, que es una forma de idolatría. Estas cosas provocan la ira de Dios sobre los rebeldes. Ustedes mismos se comportaban así en otro tiempo, viviendo desordenadamente. Pero ahora es necesario que acaben con la ira, el rencor, la maldad, las injurias y las conversaciones groseras. Tampoco se engañen los unos a los otros. Porque ustedes se despojaron del hombre viejo y de sus obras, y se revistieron del hombre nuevo, aquel que avanza hacia el conocimiento perfecto, renovándose constantemente según la imagen de su Creador.
RE: Latest messages are at Holy Love Ministries (www.holylove.org) and Ministerios del Amor Santo (www.amorsanto.com)