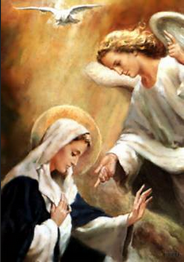 June 6, 2021
Once again, I (Maureen) see a Great Flame that I have come to know as the Heart of God the Father. He says: "Children, contemplate for a moment the Holy Virgin's* 'Fiat' – "Behold, I am the handmaid of the Lord; let it be done unto me according to thy word." This was the Holy Mother's surrender to My Divine Will. She did not surrender in such a way just one time. Rather, it was an ongoing commitment throughout Her whole life. In the same way, each soul is converted not just once in his lifetime, but over and over throughout his life. Only at the moment of death should the soul's surrender to My Will and his ongoing conversion cease."

Read Luke 1:38+

And Mary said, "Behold, I am the handmaid of the Lord; let it be to me according to your word." And the angel departed from her.

+ Scripture verses asked to be read by God the Father.

 

6 de Junio del 2021
Mensaje Público

Nuevamente veo una gran llama que he llegado a reconocer como el Corazón de Dios Padre. Dice: "Hijos, contemplen por un momento el 'Fiat' de la Virgen Santa: 'He aquí la esclava del Señor; hágase en mí según tu palabra.' Esta fue la rendición de la Santa Madre a Mi Divina Voluntad. No se entregó de esa manera una sola vez. Más bien, fue un compromiso continuo a lo largo de toda Su vida. De igual forma, cada alma no se convierte una sola vez en su vida, sino lo hace una y otra vez a lo largo de su vida. La rendición del alma a Mi Voluntad y su conversión continua solamente terminan en el momento de su muerte."

Lucas 1:38




María dijo entonces: 'Yo soy la servidora del Señor, que se cumpla en mí lo que has dicho'. Y el Ángel se alejó.
RE: Latest messages are at Holy Love Ministries (www.holylove.org) and Ministerios del Amor Santo (www.amorsanto.com)