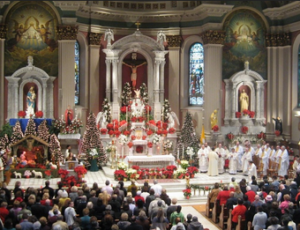 December 14, 2020
Once again, I (Maureen) see a Great Flame that I have come to know as the Heart of God the Father. He says: "The reason there is so much turmoil in the world today is My children do not obey My Commandments. Abortion is a flagrant example. I cannot work miracles in the face of so much disobedience. Therefore, it is necessary that the good suffers along with the bad. In the future, I will send My harvesting angels to separate the wheat from the chaff. Until such time, the Remnant who still love Me must continue in belief in My Provision. Pray for hope with faith. Continue to be examples of Holy Love and belief in My Love for you. Do not let Satan tempt you into discouragement.""I count on My Remnant Faithful, just as I believed in Noah and saved him and his family from the flood. I see which ones I can count on to pass on the Faith to future generations. You will be protected from the apostasy of these times. Continue to hope and pray to perpetuate obedience to My Commandments."Read 1 John 3:18-24+

Little children, let us not love in word or speech but in deed and in truth. By this we shall know that we are of the truth, and reassure our hearts before him whenever our hearts condemn us; for God is greater than our hearts, and he knows everything. Beloved, if our hearts do not condemn us, we have confidence before God; and we receive from him whatever we ask, because we keep his commandments and do what pleases him. And this is his commandment, that we should believe in the name of his Son Jesus Christ and love one another, just as he has commanded us. All who keep his commandments abide in him, and he in them. And by this we know that he abides in us, by the Spirit which he has given us.

+ Scripture verses asked to be read by be read by God the Father.

 

14 de Diciembre del 2020
Nuevamente veo una gran llama que he llegado a reconocer como el Corazón de Dios Padre. Dice: "La razón por la que hay tanta confusión en el mundo actual es porque Mis hijos no obedecen Mis mandamientos. El aborto es un claro ejemplo. Yo no puedo hacer milagros ante tanta desobediencia. Por lo tanto, es necesario que el bueno sufra junto con el malo. En el futuro, enviaré a los ángeles de la cosecha a separar el trigo de la paja. Hasta ese momento, el Resto que todavía me ame, tiene que seguir creyendo en Mi Provisión. Recen con fe pidiendo esperanza. Sigan siendo ejemplos del Amor Santo y creyendo en Mi amor por ustedes. No permitan que Satanás los tiente con el desaliento.""Yo cuento con Mi Resto Fiel, tal como creí en Noé y lo salvé del diluvio a él y a su familia. Yo veo con quienes puedo contar para transmitir la fe a las futuras generaciones. Ustedes serán protegidos de la apostasía de estos tiempos. Sigan teniendo esperanza y recen para perpetuar la obediencia a Mis mandamientos."Lean 1ª Juan 3:18-24
Hijitos míos, no amemos con la lengua y de palabra, sino con obras y de verdad. En esto conoceremos que somos de la verdad, y estaremos tranquilos delante de Dios aunque nuestra conciencia nos reproche algo, porque Dios es más grande que nuestra conciencia y conoce todas las cosas. Queridos míos, si nuestro corazón no nos hace ningún reproche, podemos acercarnos a Dios con plena confianza, y él nos concederá todo cuanto le pidamos, porque cumplimos sus mandamientos y hacemos lo que le agrada. Su mandamiento es este: que creamos en el nombre de su Hijo Jesucristo, y nos amemos los unos a los otros como él nos ordenó. El que cumple sus mandamientos permanece en Dios, y Dios permanece en él; y sabemos que él permanece en nosotros, por el Espíritu que nos ha dado.
RE: Latest messages are at Holy Love Ministries and Ministerios del Amor Santo