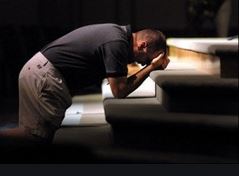 October 18, 2021
Once again, I (Maureen) see a Great Flame that I have come to know as the Heart of God the Father. He says: "Children, I cannot come closer to you and deeper into your heart unless you desire it. It is always by your efforts and a movement of your will that we can work together. I wish to foster this desire so that together we can change t

he heart of the world."

"Each day offers many opportunities for you to bring Me more souls – souls that do not walk the way of salvation. You do not see and often do not understand what one more prayer or sacrifice can do for poor sinners. Many hearts weigh in the balance of your efforts. The Evil One does not want you to know how important one 'Hail Mary'* or one more small sacrifice is. His kingdom in the world could be destroyed if more people realized this."

"When you reach eternal life, it will be too late to save more souls. This is why the present moment is so important."

Read Galatians 6: 7-10+

Do not be deceived; God is not mocked, for whatever a man sows, that he will also reap. For he who sows to his own flesh will from the flesh reap corruption; but he who sows to the Spirit will from the Spirit reap eternal life. And let us not grow weary in well-doing, for in due season we shall reap, if we do not lose heart. So then, as we have opportunity, let us do good to all men, and especially to those who are of the household of faith.

+ Scripture verses asked to be read by God the Father.

 

18 de Octubre del 2021
Nuevamente veo una gran llama que he llegado a reconocer como el Corazón de Dios Padre. Dice: "Hijos, Yo no puedo acercarme más a ustedes ni a lo profundo de sus corazones si ustedes no lo desean. Siempre podremos trabajar juntos a través de sus esfuerzos y por un movimiento de su voluntad. Yo deseo fomentar este deseo para que unidos podamos cambiar el corazón del mundo."

"Cada día ofrece muchas oportunidades para que me traigan más almas; almas que no van por el camino de la salvación. Ustedes no ven –y con frecuencia no comprenden– lo que una oración o sacrificio extra puede hacer por los pobres pecadores. Muchos corazones dependen de sus esfuerzos. El maligno no quiere que ustedes sepan la importancia que tiene una sola Avemaría o un pequeño sacrificio extra. Su reino en el mundo podría ser destruido si más personas comprendieran esto."

"Cuando alcancen la vida eterna será demasiado tarde para salvar más almas. Es por eso que el momento presente es tan importante."

Lean Gálatas 6:7-10




No se engañen: nadie se burla de Dios. Se recoge lo que se siembra: el que siembra para satisfacer su carne, de la carne recogerá sólo la corrupción; y el que siembra según el Espíritu, del Espíritu recogerá la Vida eterna. No nos cansemos de hacer el bien, porque la cosecha llegará a su tiempo si no desfallecemos. Por lo tanto, mientras estamos a tiempo hagamos el bien a todos, pero especialmente a nuestros hermanos en la fe.
RE: Latest messages are at Holy Love Ministries (www.holylove.org) and Ministerios del Amor Santo (www.amorsanto.com)