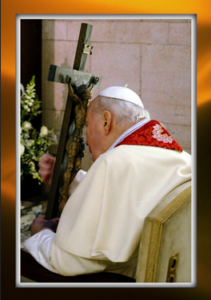 October 25, 2020 Once again, I (Maureen) see a Great Flame that I have come to know as the Heart of God the Father. He says: "Today, I urge your nation* to pray for discernment. It is evident that this is a gift of the Holy Spirit which is lacking. Discernment sorts out good from evil and assists the soul in making good decisions. It is this gift which sees the long-term effects of choices made. Discernment which is genuine is based upon wisdom."

"Poor discernment gives way to rash judgment. Poor discernment leaps to conclusions and does not fully understand every angle of its choices. While some choices are more important than others, it would be most beneficial to pray for discernment before you decide on anything. At the same time, be prepared to discover Satan clothed in goodness."

"The Holy Spirit is eager to help each soul to make righteous decisions. Therefore, pray to Him and listen to His quiet suggestions. True discernment learns to recognize His Voice."

Read Acts 2:17+

' And in the last days it shall be, God declares, that I will pour out my Spirit upon all flesh, and your sons and your daughters shall prophesy, and your young men shall see visions, and your old men shall dream dreams;

+ Scripture verses asked to be read by God the Father.

 

25 de Octubre del 2020
Nuevamente veo una gran llama que he llegado a reconocer como el Corazón de Dios Padre. Dice: "Hoy exhorto a su Nación a rezar pidiendo discernimiento. Es evidente que el discernimiento es un don del Espíritu Santo que escasea. El discernimiento diferencia el bien del mal y ayuda al alma a tomar buenas decisiones. Este don es el que ve los efectos a largo plazo de las decisiones que se toman. El discernimiento que es auténtico se basa en la sabiduría."

"El mal discernimiento abre paso al juicio precipitado. El mal discernimiento saca conclusiones y no comprende del todo cada dimensión de sus decisiones. Aunque algunas decisiones son más importantes que otras, sería más provechoso rezar pidiendo discernimiento antes de decidir cualquier cosa. Al mismo tiempo, prepárense para descubrir a Satanás revestido de bondad."

"El Espíritu Santo está ansioso por ayudar a cada alma a tomar decisiones correctas. Por lo tanto, pídanle a Él, y escuchen Sus silenciosas inspiraciones. El auténtico discernimiento aprende a reconocer la voz del Espíritu Santo."

Lean Hechos 2:17
En los últimos días, dice el Señor, derramaré mi Espíritu sobre todos los hombres y profetizarán sus hijos y sus hijas; los jóvenes verán visiones y los ancianos tendrán sueños proféticos.
RE: Latest messages are at Holy Love Ministries and Ministerios del Amor Santo