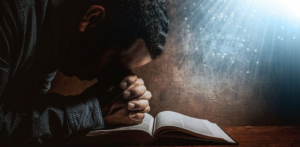 March 12, 2021
Once again, I (Maureen) see a Great Flame that I have come to know as the Heart of God the Father. He says: "Today, more than any other time in the history of the world, souls must pray to recognize Truth. Satan, who is the Prince of lies, has control of governments, the economy and mass media. My Commandments are the basis of Truth. Anyone or anything which goes against My Commandments goes against Truth and embraces the lies of Satan."

"Holy Love is the embrace of the Two Great Commandments – to love Me above all else and your neighbor as self. These days, the focus has fallen away from Holy Love and centers on love of self. Fashions have been introduced which I despise. Laws have changed to embrace much sin. People have chosen to believe in laws instead of My Commandments. I cannot choose for mankind or adjust My Commandments to please modern-day thinking. My Laws stand as the judge of every conscience."

"If the present moment were to be the last moment for every man on earth, how great would be the number to slide to their perdition for all eternity? Divine Mercy embraces all who repent."

Read Psalm 9:19-20+

Arise, O LORD! Let not man prevail; let the nations be judged before you! Put them in fear, O LORD! Let the nations know that they are but men!

+ Scripture verses asked to be read by God the Father.

 

12 de Marzo del 2021
Nuevamente veo una gran llama que he llegado a reconocer como el Corazón de Dios Padre. Dice: "Hoy, más que en cualquier otro tiempo de la historia del mundo, las almas tienen que rezar para reconocer la verdad. Satanás, quien es el príncipe de las mentiras, tiene el control de los gobiernos, de la economía y de los medios de comunicación. Mis mandamientos son el cimiento de la verdad. Cualquier persona o cualquier cosa que vaya en contra de Mis mandamientos va en contra de la verdad y abraza las mentiras de Satanás."

"El Amor Santo es el abrazo de los dos grandes mandamientos: amarme a Mí sobre todas las cosas y al prójimo como a sí mismos. En estos días, el enfoque ha dejado de ser el Amor Santo y se centra en el amor a sí mismos. Se han introducido modas que Yo desprecio. Han cambiado leyes para que se acepten muchos pecados. Las personas han elegido creer en las leyes en lugar de creer en Mis mandamientos. Yo no puedo decidir por la humanidad ni puedo ajustar Mis mandamientos para complacer al pensamiento moderno. Mis leyes son el juez de cada conciencia."

"Si el momento presente fuera el último momento para todos los hombres de la tierra, ¿qué grande sería el número de los que caerían en su perdición para toda la eternidad? La Divina Misericordia abraza a todos los que se arrepienten."

Lean Salmo 9:20-21




¡Levántate, Señor! Que los hombres no se envanezcan, y las naciones sean juzgadas en tu presencia. Infúndeles pánico, Señor, para que aprendan que no son más que hombres.
RE: Latest messages are at Holy Love Ministries (www.holylove.org) and Ministerios del Amor Santo (www.amorsanto.com)