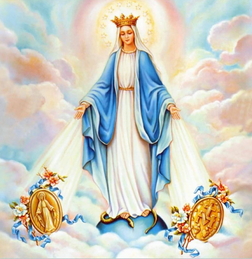 God The Father
Feast of Our Lady of the Miraculous Medal
November 27, 2020
Once again, I (Maureen) see a Great Flame that I have come to know as the Heart of God the Father. He says: "Children, my best intentions for the world today are freedom from the coronavirus and truthful exposure of all the voter fraud which took place in America recently. For now, certain precautions must be taken against this rampant virus. Aside from the threat of infection, there is the new danger of the virus becoming a political issue, which it has. There are attempts to stall possible cures. Plus the fact that it is affecting the economy and closing businesses."

"The voter fraud was criminal. The technology which I inspired as a gift to mankind was used to violate the Truth."

"These issues are foremost in My Paternal Heart as I gaze down upon the world today. I caution you, do not allow the material side of this Christmas season take priority over prayer for these – My intentions."

Read Colossians 3:1-4+

If then you have been raised with Christ, seek the things that are above, where Christ is, seated at the right hand of God. Set your minds on things that are above, not on things that are on earth. For you have died, and your life is hid with Christ in God. When Christ who is our life appears, then you also will appear with him in glory.

+ Scripture verses asked to be read by God the Father.

 

27 de Noviembre del 2020
Nuevamente veo una gran llama que he llegado a reconocer como el Corazón de Dios Padre. Dice: "Hijos, las principales intenciones que tengo para el mundo actual son que se liberen del coronavirus y que se exponga de forma veraz todo el fraude electoral que sucedió en su País recientemente. Por ahora, se deben tomar ciertas precauciones contra este virus desenfrenado. Aparte de la amenaza de contagiarse, está el nuevo peligro de que el virus se vuelva un problema político, el cual ya es. Hay intentos por impedir posibles curas. Sumado al hecho de que está afectando la economía y cerrando negocios."

"El fraude electoral fue perverso. La tecnología que Yo inspiré como un regalo para la humanidad fue utilizada para profanar la verdad."

"Estos problemas son lo primero en Mi Corazón Paternal al ver el mundo de hoy. Yo les advierto, no permitan que el aspecto material de esta época navideña tenga prioridad sobre la oración por estas intenciones Mías."

Lean Colosenses 3:1-4




Ya que ustedes han resucitado con Cristo, busquen los bienes del cielo donde Cristo está sentado a la derecha de Dios. Tengan el pensamiento puesto en las cosas celestiales y no en las de la tierra. Porque ustedes están muertos, y su vida está desde ahora oculta con Cristo en Dios. Cuando se manifieste Cristo, que es nuestra vida, entonces ustedes también aparecerán con él, llenos de gloria.
RE: Latest messages are at Holy Love Ministries and Ministerios del Amor Santo