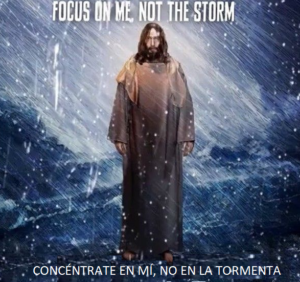 May 3, 2021
Once again, I (Maureen) see a Great Flame that I have come to know as the Heart of God the Father. He says: "Do not let the storms of life defeat your faith. In hidden and overt ways, I am providing. Give thanks for this, even if My Grace is not apparent. Discouragement is a ploy of Satan designed to weaken your faith. The prayer that is wrapped in faith when it arrives in Heaven is most effective and comes back to you as grace."

"If each soul would say one prayer from the heart every day, the world would be a better place. There would be peace anchored in hope. Fears would take flight. Evils would be exposed and defeated. Politics would be honest and not manipulated by evil. There would be no right and left in governments. All would be openly working in honesty for the best way to help others. As it is, the great majority do not pray before they act. They are motivated towards an evil end."

"I am asking the majority who do not pray to begin to pray and to listen to Me. This is the only way issues and laws will be made in Holy Love."

Read Galatians 6:7-10+

Do not be deceived; God is not mocked, for whatever a man sows, that he will also reap. For he who sows to his own flesh will from the flesh reap corruption; but he who sows to the Spirit will from the Spirit reap eternal life. And let us not grow weary in well-doing, for in due season we shall reap, if we do not lose heart. So then, as we have opportunity, let us do good to all men, and especially to those who are of the household of faith.

+ Scripture verses asked to be read by God the Father.

 

3 de Mayo del 2021
Nuevamente veo una gran llama que he llegado a reconocer como el Corazón de Dios Padre. Dice: "No permitan que las tormentas de la vida acaben con su fe. Yo proveo de maneras ocultas y abiertas. Den gracias por esto, incluso si Mi gracia no es palpable. El desaliento es una táctica de Satanás diseñada para debilitar su fe. La oración que está envuelta en la fe, cuando llega al Cielo es muy eficaz y regresa a ustedes como gracia."

"Si cada alma hiciera una sola oración con el corazón cada día, el mundo sería un mejor lugar. Habría paz anclada en la esperanza. Desaparecerían los miedos. Los males serían expuestos y derrotados. La política sería honesta y no sería manipulada por el mal. No habría ningún gobierno de derecha o de izquierda. Todos actuarían abiertamente con honestidad para ayudar a los demás de la mejor manera. La realidad es que la gran mayoría no reza antes de actuar. Lo que los motiva es un fin maligno."

"Le pido a la mayoría de los que no rezan que empiecen a rezar y a escucharme. Esta es la única manera en que los asuntos y las leyes se harán con Amor Santo."

Lean Gálatas 6:7-10




No se engañen: nadie se burla de Dios. Se recoge lo que se siembra: el que siembra para satisfacer su carne, de la carne recogerá sólo la corrupción; y el que siembra según el Espíritu, del Espíritu recogerá la Vida eterna. No nos cansemos de hacer el bien, porque la cosecha llegará a su tiempo si no desfallecemos. Por lo tanto, mientras estamos a tiempo hagamos el bien a todos, pero especialmente a nuestros hermanos en la fe.
RE: Latest messages are at Holy Love Ministries (www.holylove.org) and Ministerios del Amor Santo (www.amorsanto.com)