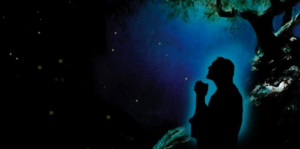 December 6, 2020
Once again, I (Maureen) see a Great Flame that I have come to know as the Heart of God the Father. He says: "There is a solution to every problem – an alternative to every seeming defeat. My Will is always present to you in every situation. Sometimes you cannot readily see it, but in the next moment it is apparent. Therefore, do not lose heart, but pray that My Divine Will is shown to you."

"My Permitting Will is always towards the salvation of souls. You never know how souls are touched and converted even in a tragedy. My Paternal Heart envelops the entire world – even the greatest sinner – even those who believe in false religions. This is so, for I am the Creator of all. Most often, what I give is misused. Even then, I continue to love all people and all nations. The soul is lost through its own free will."

"The soul who chooses to please Me by obeying My Commandments is lifted high in the greatest places in Heaven. It is there I will return the favor and please him."

Read 1 John 3:21-22+

Beloved, if our hearts do not condemn us, we have confidence before God; and we receive from him whatever we ask, because we keep his commandments and do what pleases him.

+ Scripture verses asked to be read by God the Father.

 

6 de Diciembre del 2020
Nuevamente veo una gran llama que he llegado a reconocer como el Corazón de Dios Padre. Dice: "Hay una solución para cada problema; para cada aparente derrota, hay una alternativa. Mi Voluntad siempre está presente para ustedes en cada situación. A veces no pueden verla fácilmente, pero es evidente en el siguiente momento. Por lo tanto, no se desanimen, sino recen para que se les muestre Mi Divina Voluntad."

"Mi Voluntad Permisiva siempre está orientada hacia la salvación de las almas. Ustedes nunca saben cómo son tocadas y convertidas las almas, incluso en una tragedia. Mi Corazón Paternal envuelve al mundo entero, hasta al más grande pecador; incluso a quienes creen en falsas religiones. Esto es así porque Yo soy el creador de todo. La mayoría de las veces, lo que Yo doy no se usa bien. Incluso entonces, Yo sigo amando a toda la gente y a todas las naciones. El alma se pierde por medio de su libre albedrío."

"El alma que elige agradarme a Mí obedeciendo Mis mandamientos es elevada a lo alto en los mejores lugares del Cielo. Es ahí donde Yo devolveré el favor y la complaceré."

Lean 1ª Juan 3:21-22
Queridos míos, si nuestro corazón no nos hace ningún reproche, podemos acercarnos a Dios con plena confianza, y él nos concederá todo cuanto le pidamos, porque cumplimos sus mandamientos y hacemos lo que le agrada.
RE: Latest messages are at Holy Love Ministries and Ministerios del Amor Santo