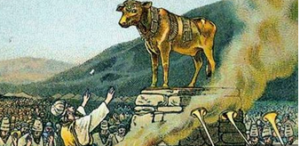 April 20, 2021
Once again, I (Maureen) see a Great Flame that I have come to know as the Heart of God the Father. He says: "I am the Eternal Now. I exist outside of time and space. I always was and always will be. I created Heaven and earth. In Me there is no beginning or end. I have given My children My Commandments which they must obey to obtain eternal life. These are the evil last days of My created world. Man has compromised and convoluted My Commandments. He lives, in many cases, as though I do not exist. He kills the new life I place in the womb. He makes false gods out of untruths."

"I come to restore peace and dignity to all mankind. Believe in the Truth of your place before Me, O Man of Earth. Do not make false gods out of money, sexuality, reputation or physical attributes. Devote your hearts and your lives to the Truth of My Commandments. I stand over you patiently awaiting your repentance."

Read 1 John 2:18+

Children, it is the last hour; and as you have heard that antichrist is coming, so now many antichrists have come; therefore we know that it is the last hour.

Read 1 John 3:19-24+

By this we shall know that we are of the truth, and reassure our hearts before him whenever our hearts condemn us; for God is greater than our hearts, and he knows everything. Beloved, if our hearts do not condemn us, we have confidence before God; and we receive from him whatever we ask, because we keep his commandments and do what pleases him. And this is his commandment, that we should believe in the name of his Son Jesus Christ and love one another, just as he has commanded us. All who keep his commandments abide in him, and he in them. And by this we know that he abides in us, by the Spirit which he has given us.

+ Scripture verses asked to be read by God the Father.

 

20 de Abril del 2021
Nuevamente veo una gran llama que he llegado a reconocer como el Corazón de Dios Padre. Dice: "Yo soy el Eterno Ahora. Yo existo fuera del tiempo y del espacio. Yo siempre fui y siempre seré. Yo creé el Cielo y la tierra. En Mí no hay principio ni fin. Le he dado a Mis hijos Mis mandamientos, los cuales deben obedecer para obtener la vida eterna. Estos son los últimos tiempos malignos de Mi mundo creado. La humanidad ha comprometido y tergiversado Mis mandamientos. En muchos casos, viven como si Yo no existiera; matan la nueva vida que Yo pongo en el vientre materno; hacen falsos dioses de las falsedades."

"Vengo para restaurar la paz y la dignidad en toda la humanidad. Cree en la realidad del lugar que tienes ante Mí, oh hombre de la tierra. No hagan falsos dioses del dinero, de la sexualidad, de la reputación ni de los atributos físicos. Dediquen sus corazones y sus vidas a la verdad de Mis mandamientos. Yo los observo pacientemente, esperando a que se arrepientan."

Lean 1ª Juan 2:18




Hijos míos, ha llegado la última hora. Ustedes oyeron decir que vendría un Anticristo; en realidad, ya han aparecido muchos anticristos, y por eso sabemos que ha llegado la última hora.

1ª Juan 3:19-24




En esto conoceremos que somos de la verdad, y estaremos tranquilos delante de Dios aunque nuestra conciencia nos reproche algo, porque Dios es más grande que nuestra conciencia y conoce todas las cosas. Queridos míos, si nuestro corazón no nos hace ningún reproche, podemos acercarnos a Dios con plena confianza, y él nos concederá todo cuanto le pidamos, porque cumplimos sus mandamientos y hacemos lo que le agrada. Su mandamiento es este: que creamos en el nombre de su Hijo Jesucristo, y nos amemos los unos a los otros como él nos ordenó. El que cumple sus mandamientos permanece en Dios, y Dios permanece en él; y sabemos que él permanece en nosotros, por el Espíritu que nos ha dado.
RE: Latest messages are at Holy Love Ministries (www.holylove.org) and Ministerios del Amor Santo (www.amorsanto.com)