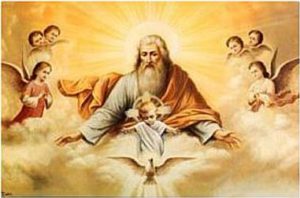 August 20, 2021
Once again, I (Maureen) see a Great Flame that I have come to know as the Heart of God the Father. He says: "Children, listen to My Eternal Call to you, which is to live in Holy Love. Your choices here on earth determine your eternity. Choosing Holy Love means that you obey My Commandments.* This obedience means you love Me above all else or passing things."

"Do not place joy in any relationship, or entertainment, or money and status, above Me. Stay focused on your eternal destination, not on earthly happiness. Be happy in your efforts to please Me. This joy I will gladly share with you."

"If you do this, it will be difficult for Satan to distract or confuse your efforts. This holy focus on Holy Love is your protection."

Read Ephesians 6:10-17+

Finally, be strong in the Lord and in the strength of his might. Put on the whole armor of God, that you may be able to stand against the wiles of the devil. For we are not contending against flesh and blood, but against the principalities, against the powers, against the world rulers of this present darkness, against the spiritual hosts of wickedness in the heavenly places. Therefore take the whole armor of God, that you may be able to withstand in the evil day, and having done all, to stand. Stand therefore, having fastened the belt of Truth around your waist, and having put on the breastplate of righteousness, and having shod your feet with the equipment of the gospel of peace; besides all these, taking the shield of faith, with which you can quench all the flaming darts of the Evil One. And take the helmet of salvation, and the sword of the Spirit, which is the word of God.

+ Scripture verses asked to be read by God the Father.

 

20 de Agosto del 2021
Nuevamente veo una gran llama que he llegado a reconocer como el Corazón de Dios Padre. Dice: "Hijos, escuchen Mi llamado eterno para ustedes, el cual es un llamado a vivir en Amor Santo. Sus decisiones aquí en la tierra determinan su eternidad. Elegir el Amor Santo significa que obedecen Mis mandamientos. Esta obediencia implica que me aman por encima de todo o sobre todas las cosas pasajeras."

"No sientan alegría por ninguna relación, entretenimiento, dinero o estatus por encima de Mí. Enfóquense en su destino eterno, no en su felicidad terrena. Sean felices en sus esfuerzos por agradarme a Mí. Esta alegría la compartiré gustosamente con ustedes."

"Si ustedes hacen esto, no será fácil que Satanás los distraiga o confunda sus esfuerzos. Este santo enfoque en el Amor Santo es su protección."

Lean Efesios 6:10-17




Por lo demás, fortalézcanse en el Señor con la fuerza de su poder. Revístanse con la armadura de Dios, para que puedan resistir las insidias del demonio. Porque nuestra lucha no es contra enemigos de carne y sangre, sino contra los Principados y Potestades, contra los Soberanos de este mundo de tinieblas, contra los espíritus del mal que habitan en el espacio. Por lo tanto, tomen la armadura de Dios, para que puedan resistir en el día malo y mantenerse firmes después de haber superado todos los obstáculos. Permanezcan de pie, ceñidos con el cinturón de la verdad y vistiendo la justicia como coraza. Calcen sus pies con el celo para propagar la Buena Noticia de la paz. Tengan siempre en la mano el escudo de la fe, con el que podrán apagar todas las flechas encendidas del Maligno. Tomen el casco de la salvación, y la espada del Espíritu, que es la Palabra de Dios.
RE: Latest messages are at Holy Love Ministries (www.holylove.org) and Ministerios del Amor Santo (www.amorsanto.com)