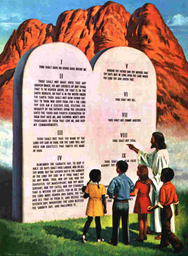 November 12, 2021
Once again, I (Maureen) see a Great Flame that I have come to know as the Heart of God the Father. He says: "Children, there is a difference between civil law and the laws of My Ten Commandments.* Civil law says it is acceptable to kill the unborn. My Commandment dictates 'Thou shalt not kill'.** Civil law protects every sort of slander as freedom of speech, while My Commandments dictate you must be charitable towards your neighbor in thought, word and deed. It is important to take note of this in your conscience. Do not presume because something is legal under civil law that it pleases Me and conforms to My Commandments. In order to be saved, your conscience must be free of any violation of My Commandments.""Do not look for acceptance and approval amongst men, but from Me – your God and Creator. It is I you must answer to. Seek My Approval – not your fellow man. Do not act in a way that serves the false god of popularity, but in ways which lead to your sanctification. I am always aware of your decisions in the world. I am the last and final Judge you need to impress."

Read Galatians 3:5-10+

Does he who supplies the Spirit to you and works miracles among you do so by works of the law, or by hearing with faith? Thus Abraham "believed God, and it was reckoned to him as righteousness." So you see that it is men of faith who are the sons of Abraham. And the Scripture, foreseeing that God would justify the Gentiles by faith, preached the gospel beforehand to Abraham, saying, "In you shall all the nations be blessed." So then, those who are men of faith are blessed with Abraham who had faith. For all who rely on works of the law are under a curse; for it is written, " Cursed be every one who does not abide by all things written in the book of the law, and do them."

+ Scripture verses asked to be read by God the Father.

 

12 de Noviembre del 2021
Nuevamente veo una gran llama que he llegado a reconocer como el Corazón de Dios Padre. Dice: "Hijos, hay una diferencia entre la ley civil y las leyes de Mis Diez Mandamientos. La ley civil dice que es aceptable matar al no nacido. Mi mandamiento ordena 'No matarás'. La ley civil protege todo tipo de calumnia como libertad de expresión, mientras que Mis mandamientos ordenan que tienen que ser caritativos con el prójimo en pensamiento, palabra y obra. Es importante tomar nota de esto en su conciencia. No crean que porque algo es legal bajo la ley civil eso me agrada a Mí y se ajusta a Mis mandamientos. Para poder salvarse, sus conciencias tienen que estar libres de cualquier transgresión a Mis mandamientos.""No busquen la aceptación y aprobación entre los hombres, sino la Mía; su Dios y Creador. Es a Mí a quien tienen que rendir cuentas. Busquen Mi aprobación; no la de su prójimo. No actúen de tal manera que sirvan al falso dios de la popularidad, sino háganlo de maneras que los guíen en su santificación. Yo estoy siempre consciente de sus decisiones en el mundo. Yo soy el indiscutible Juez al que tienen que impresionar."

Lean Gálatas 3:5-10




Aquel que les prodiga el Espíritu y está obrando milagros entre ustedes, ¿lo hace por las obras de la Ley o porque han creído en la predicación? Es el caso de Abraham, que creyó en Dios, y esto le fue tenido en cuenta para su justificación. Reconozcan, entonces, que los verdaderos hijos de Abraham son los que tienen fe. La Escritura, previendo que Dios justificaría a los paganos por la fe, anticipó esta buena noticia a Abraham, prometiéndole: En ti serán bendecidas todas las naciones. De esa manera, los que creen son los que participan de la bendición de Abraham, el creyente. En efecto, todos los que confían en las obras de la Ley están bajo una maldición, porque dice la Escritura: Maldito sea el que no cumple fielmente todo lo que está escrito en el libro de la Ley.
RE: Latest messages are at Holy Love Ministries (www.holylove.org) and Ministerios del Amor Santo (www.amorsanto.com)