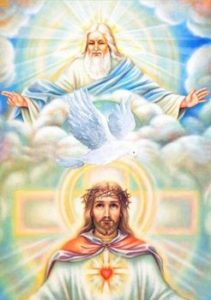 November 17, 2020
Once again, I (Maureen) see a Great Flame that I have come to know as the Heart of God the Father. He says: "Children, the reason I gave you My Commandments was to save your souls by keeping you on the pathway of salvation. Do not allow your hearts to stray from this path by any form of entertainment, politics, or mass media. Keep your dress code modest. Do not try to please people more than you please Me. Avoid any semblance of hypocrisy in your hearts. Do not have a double standard – that is, to behave one way to please one group of people and another way to please someone else. Do not be silent about your Christian views – there are enough people who spout off on their skewed views of behavior. Never settle on political views contrary to My Commandments."

"In all of this, remember, I am your Creator and the One to impress. I am pleased with those who live in such a way, for they live in the Truth."

Read Ephesians 5:1-2+

Therefore be imitators of God, as beloved children. And walk in love, as Christ loved us and gave himself up for us, a fragrant offering and sacrifice to God.

+ Scripture verses asked to be read by God the Father.

 

17 de Noviembre del 2020
Nuevamente veo una gran llama que he llegado a reconocer como el Corazón de Dios Padre. Dice: "Hijos, la razón por la que les di Mis mandamientos fue para que sus almas se salven manteniéndose en el camino de la salvación. No permitan que sus corazones se salgan de este sendero por alguna forma de entretenimiento, por la política o por los medios de comunicación. Mantengan modesta su forma de vestir. No intenten agradar a las personas más de lo que me agradan a Mí. Eviten cualquier señal de hipocresía en sus corazones. No tengan doble moral; es decir, no se comporten de una manera para agradar a un grupo de personas y de otra para agradar a alguien más. No callen sus puntos de vista cristianos; existen suficientes personas que no dejan de divulgar sus opiniones distorsionadas de cómo comportarse. Nunca se adapten a los puntos de vista políticos contrarios a Mis mandamientos."

"En todo esto, recuerden que Yo soy su Creador y el único a quien tienen que impresionar. Me complazco con los que viven de esta manera, porque viven en la verdad."

Lean Efesios 5:1-2




Traten de imitar a Dios, como hijos suyos muy queridos. Vivan en el amor, a ejemplo de Cristo, que nos amó y se entregó por nosotros, como ofrenda y sacrificio agradable a Dios.
RE: Latest messages are at Holy Love Ministries and Ministerios del Amor Santo