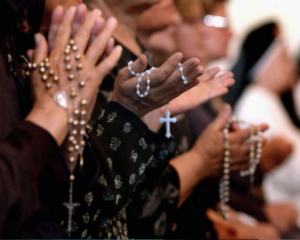 September 3, 2020 Once again, I (Maureen) see a Great Flame that I have come to know as the Heart of God the Father. He says: "During these tenuous times, I urge all of my children to pray for the conscience of this country.* People of power are trying to erase concern for others and to change the heart of this nation into a nation which does not see the consequences of their actions. People think by pursuing unwarranted violent protests they are changing the nation for the better. In fact, they are being led by evil to choose violence over law and order. These protests are politically motivated. While the protesters think they are helping others, they do not look ahead to see the long-term effects of such social disorder. This disorder lays the way for a leader who on the outside may seem to be the solution but has a hidden agenda of evil once he attains power. Still others may seek office but are only puppets of evil control."

"Pray, children, that the heart of this nation receives spiritual insight as to what and who is inspiring this unprecedented violence. This is a call to recognize the Truth of who is instigating all this disorder."

Read 2 Thessalonians 2:9-12+

The coming of the lawless one by the activity of Satan will be with all power and with pretended signs and wonders, and with all wicked deception for those who are to perish, because they refused to love the Truth and so be saved. Therefore, God sends upon them a strong delusion, to make them believe what is false, so that all may be condemned who did not believe the Truth but had pleasure in unrighteousness.

+ Scripture verses asked to be read by God the Father.

 

3 de Septiembre del 2020
Nuevamente veo una gran llama que he llegado a reconocer como el Corazón de Dios Padre. Dice: "Durante estos tiempos delicados, exhorto a todos Mis hijos a rezar por la conciencia de este País. Hay personas con poder tratando de eliminar la preocupación por los demás y de cambiar el corazón de esta Nación para que sea una nación que no considere las consecuencias de sus acciones. Las personas piensan que llevando a cabo protestas violentas injustificadas están cambiando la Nación para bien. En realidad, el mal los está guiando para que opten por la violencia sobre la ley y el orden. Estas protestas están políticamente motivadas. Aunque los que protestan piensan que están ayudando a los demás, no ven a futuro para considerar los efectos a largo plazo de ese desorden social. Este desorden le allana el camino al líder que, exteriormente, puede parecer ser la solución, pero una vez que llega al poder, tiene una agenda oculta del mal. Hay otros que pueden buscar un cargo, pero solamente son marionetas del control maligno."

"Recen, hijos, para que el corazón de esta Nación reciba entendimiento espiritual en cuanto a qué y quién está inspirando esta violencia sin precedentes. Este es un llamado a reconocer la verdad de quién está promoviendo todo este desorden."

Lean 2ª Tesalonicenses 2:9-12




La venida del Impío será provocada por la acción de Satanás y está acompañada de toda clase de demostraciones de poder, de signos y falsos milagros, y de toda clase de engaños perversos, destinados a los que se pierden por no haber amado la verdad que los podía salvar. Por eso, Dios les envía un poder engañoso que les hace creer en la mentira, a fin de que sean condenados todos los que se negaron a creer en la verdad y se complacieron en el mal.
RE: Latest messages are at Holy Love Ministries and Ministerios del Amor Santo