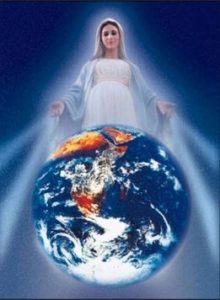 January 1, 2021
The Blessed Virgin Mary says: "Praise be to Jesus."

"Each and every person that walks the face of the earth is My child and I am their Mother. Like any mother, I long to tend to the needs of My children. I desire that they turn to Me with trust, through prayer in their every need. I take all of their needs to the Heart of My Beloved Son, Who listens intently to My prayers. He follows closely the Will of the Father."

"Therefore, you are never alone in your needs, not in any given present moment. Pray for your trust in this throughout the New Year."

Read Galatians 6:7-10+

Do not be deceived; God is not mocked, for whatever a man sows, that he will also reap. For he who sows to his own flesh will from the flesh reap corruption; but he who sows to the Spirit will from the Spirit reap eternal life. And let us not grow weary in well-doing, for in due season we shall reap, if we do not lose heart. So then, as we have opportunity, let us do good to all men, and especially to those who are of the household of faith.

+ Scripture verses asked to be read by Blessed Virgin Mary.

 

1 de enero de 2021
La Santísima Virgen María dice: "Alabado sea Jesús".

"Todas y cada una de las personas que caminan sobre la faz de la tierra son Mi hijo y Yo soy su Madre. Como cualquier madre, anhelo atender las necesidades de Mis hijos. Deseo que se vuelvan a Mí con confianza, a través de la oración en todas sus necesidades. Llevo todas sus necesidades al Corazón de Mi Amado Hijo, que escucha atentamente Mis oraciones. Sigue de cerca la Voluntad del Padre ".

"Por lo tanto, nunca estás solo en tus necesidades, no en un momento presente dado. Ora por tu confianza en esto durante el Año Nuevo".

Lea Gálatas 6: 7-10 +

Que no te engañen; No se burlan de Dios, porque todo lo que el hombre siembra, eso también segará. Porque el que siembra para su propia carne, de la carne segará corrupción; pero el que siembra para el Espíritu, del Espíritu segará la vida eterna. Y no nos cansemos de hacer el bien, porque a su tiempo segaremos, si no nos desanimamos. Así que, según tengamos oportunidad, hagamos el bien a todos, y especialmente a los de la familia de la fe.

+ Versículos de la Escritura solicitados para ser leídos por la Santísima Virgen María.
RE: Latest messages are at Holy Love Ministries and Ministerios del Amor Santo