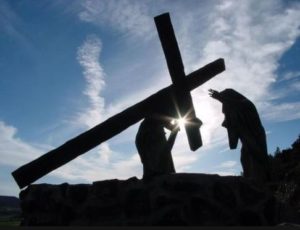 April 8, 2021
Once again, I (Maureen) see a Great Flame that I have come to know as the Heart of God the Father. He says: "Children, My Will for you is your protection and guide. Do not fear any cross. Each cross is My Will and your guide on the pathway to Paradise. Your acceptance or rejection of every cross in your life determines your eternity. There are many things that can be changed through prayer and fasting if it is My Will for you. Other crosses will remain as My Grace and your passport to eternal joy."

"In each case, see My Love for you and feel My Arms around you. So often it is the salvation of others that is at stake and measures the intensity of your crosses. Do not shrink from any cross, but know that I only permit that which you can endure. Very often I send you others who assist you in carrying your crosses. Trust also in the assistance of your angels who lovingly come to your aid."

"Every cross is in some way a grace. Do not reject this grace but embrace it as My Son* accepted His. My Will for you is always your salvation which comes to you as a tapestry of victories and crosses and always your belief in the Truth of My Commandments."

Read Ephesians 5:15-17+




Look carefully then how you walk, not as unwise men but as wise, making the most of the time, because the days are evil. Therefore do not be foolish, but understand what the will of the Lord is.




+ Scripture verses asked to be read by God the Father. (Please note: all Scripture given by Heaven refers to the Bible used by the visionary. Ignatius Press – Holy Bible – Revised Standard Version – Second Catholic Edition.)




* Our Lord and savior, Jesus Christ.

 

8 de Abril del 2021
Jueves de Pascua
Nuevamente veo una gran llama que he llegado a reconocer como el Corazón de Dios Padre. Dice: "Hijos, Mi Voluntad para ustedes es su protección y su guía. No tengan miedo de ninguna cruz. Cada cruz es Mi Voluntad y su guía en el sendero al Paraíso. Su aceptación o rechazo de cada cruz en sus vidas determina su eternidad. Hay muchas cosas que pueden cambiar con la oración y el ayuno, si es Mi Voluntad para ustedes. Otras cruces permanecerán como gracia Mía y como su pasaporte al gozo eterno."

"En cada caso, vean Mi amor por ustedes y sientan Mis Brazos a su alrededor. Con mucha frecuencia, lo que está en riesgo es la salvación de los demás, y esto mide la intensidad de sus cruces. No se acobarden ante ninguna cruz, sino sepan que Yo solo permito aquello que ustedes pueden soportar. Muchas veces envío a otros a ayudarlos a cargar sus cruces. Confíen también en la ayuda de sus ángeles, quienes amorosamente acuden a ayudarlos."

"Cada cruz, en cierta forma, es una gracia. No rechacen esta gracia, sino abrácenla como Mi Hijo abrazó la suya. Mi Voluntad para ustedes es siempre su salvación, la cual les llega como un tapiz de victorias y cruces, y que crean siempre en la verdad de Mis mandamientos."

Lean Efesios 5:15-17




Cuiden mucho su conducta y no procedan como necios, sino como personas sensatas que saben aprovechar bien el momento presente, porque estos tiempos son malos. No sean irresponsables, sino traten de saber cuál es la voluntad del Señor.
RE: Latest messages are at Holy Love Ministries (www.holylove.org) and Ministerios del Amor Santo (www.amorsanto.com)