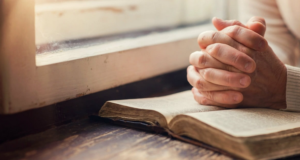 September 20, 2021
Once again, I (Maureen) see a Great Flame that I have come to know as the Heart of God the Father. He says: "Live each day as a lesson in humility and love. Look for the ways in which you can practice these two virtues. Often, then, it will not take an effort to be virtuous but will be as a second nature to you. The times when it is most difficult to be humble and loving are the times which require the greatest inner holiness."

"Each day ask for My help in your efforts towards a deeper holiness. That way you will be prepared when these virtues are tested. Do not compromise these virtues through discouragement or anger."

Read 1 Corinthians 13:4-7,13+

Love is patient and kind; love is not jealous or boastful; it is not arrogant or rude. Love does not insist on its own way; it is not irritable or resentful; it does not rejoice at wrong, but rejoices in the right. Love bears all things, believes all things, hopes all things, endures all things. . . So faith, hope, love abide, these three; but the greatest of these is love.

+ Scripture verses asked to be read by God the Father.

 

20 de Septiembre del 2021
Nuevamente veo una gran llama que he llegado a reconocer como el Corazón de Dios Padre. Dice: "Vivan cada día como una lección de humildad y amor. Busquen formas en las que puedan practicar estas dos virtudes. Entonces, no les costará ser virtuosos la mayoría de las veces, sino que será como una segunda naturaleza para ustedes. Los momentos en los que es más difícil ser humilde y amoroso es cuando se requiere la mayor santidad interior."

"Cada día, pidan Mi ayuda en sus esfuerzos por una santidad más profunda. De esa manera, estarán preparados cuando se pongan a prueba estas virtudes. No pongan en riesgo estas virtudes a través del desaliento o la ira."

Lean 1ª Corintios 13:4-7,13




El amor es paciente, es servicial; el amor no es envidioso, no hace alarde, no se envanece, no procede con bajeza, no busca su propio interés, no se irrita, no tiene en cuenta el mal recibido, no se alegra de la injusticia, sino que se regocija con la verdad. El amor todo lo disculpa, todo lo cree, todo lo espera, todo lo soporta… En una palabra, ahora existen tres cosas: la fe, la esperanza y el amor, pero la más grande de todas es el amor.
RE: Latest messages are at Holy Love Ministries (www.holylove.org) and Ministerios del Amor Santo (www.amorsanto.com)