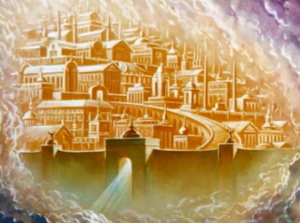 May 24, 2021 Once again, I (Maureen) see a Great Flame that I have come to know as the Heart of God the Father. He says: "Children, each present moment is the opportunity I give you to affect your eternity. If you are in accord with My Will, you will earn a higher place in Heaven by your sound choices in each moment. If you do not use your free-will choices to please Me, your choices detract from our relationship and carry you farther away from Me."

"These are the days in which evil choices have widened the abyss between Heaven and earth more than any other generation. The casualties today are not just death, but eternal damnation. My Dominion over all mankind has not changed, but it is denied the respect it deserves. Therefore, mankind loses track of his real goal of reaching Heaven for all eternity."

"I do not dictate a soul's salvation – I offer it. However, it is up to each soul to choose his salvation by the choices he makes. This is the most perverse generation in the history of mankind. Acceptance of sin has been written into law. Many evils go without recognition and even modern-day approval. The true apostles of Holy Love are often persecuted for their obedience to My Commandments."

"Each soul must desire his salvation in order to avoid the pitfalls Satan lays for him. The way to please Me and to choose salvation is to obey My Commandments."

Read 2 Timothy 4:1-5+

I charge you in the presence of God and of Christ Jesus who is to judge the living and the dead, and by his appearing and his kingdom: preach the word, be urgent in season and out of season, convince, rebuke, and exhort, be unfailing in patience and in teaching. For the time is coming when people will not endure sound teaching, but having itching ears they will accumulate for themselves teachers to suit their own likings, and will turn away from listening to the truth and wander into myths. As for you, always be steady, endure suffering, do the work of an evangelist, fulfill your ministry.

+ Scripture verses asked to be read by God the Father.

 

24 de Mayo del 2021
Nuevamente veo una gran llama que he llegado a reconocer como el Corazón de Dios Padre. Dice: "Hijos, cada momento presente es la oportunidad que Yo les doy para influir en su eternidad. Si ustedes están de acuerdo con Mi Voluntad, obtendrán un lugar más alto en el Cielo por sus buenas decisiones de cada momento. Si no utilizan las decisiones de su libre albedrío para agradarme, sus decisiones empañan nuestra relación y los alejan de Mí."

"Estos son tiempos en los que las malas decisiones han ensanchado el abismo entre el Cielo y la tierra más que cualquier otra generación. Las bajas de hoy no nada más son muertes, sino la condenación eterna. Mi dominio sobre toda la humanidad no ha cambiado, pero se le niega el respeto que merece. Por lo tanto, la humanidad pierde de vista su verdadera meta de alcanzar el Cielo para toda la eternidad."

"Yo no impongo la salvación de las almas; Yo la ofrezco. Sin embargo, depende de cada alma elegir su salvación mediante las decisiones que toma. Esta generación es la más perversa en la historia de la humanidad. La aceptación del pecado se ha hecho ley escrita. Muchos males no se reconocen y hasta se aprueban hoy día. Los verdaderos apóstoles del Amor Santo muchas veces son perseguidos por su obediencia a Mis mandamientos."

"Cada alma debe desear su salvación a fin de evitar las trampas que le pone Satanás. La manera de agradarme y de elegir la salvación es obedeciendo Mis mandamientos."

Lean 2ª Timoteo 4:1-5
Yo te conjuro delante de Dios y de Cristo Jesús, que ha de juzgar a los vivos y a los muertos, y en nombre de su Manifestación y de su Reino: proclama la Palabra de Dios, insiste con ocasión o sin ella, arguye, reprende, exhorta, con paciencia incansable y con afán de enseñar. Porque llegará el tiempo en que los hombres no soportarán más la sana doctrina; por el contrario, llevados por sus inclinaciones, se procurarán una multitud de maestros que les halaguen los oídos, y se apartarán de la verdad para escuchar cosas fantasiosas. Tú, en cambio, vigila atentamente, soporta todas las pruebas, realiza tu tarea como predicador del Evangelio, cumple a la perfección tu ministerio.
RE: Latest messages are at Holy Love Ministries (www.holylove.org) and Ministerios del Amor Santo (www.amorsanto.com)