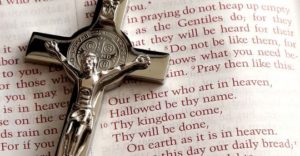 November 23, 2020
Once again, I (Maureen) see a Great Flame that I have come to know as the Heart of God the Father. He says: "Anything which smacks of dishonesty, betrayal of Truth or a hypocrisy is from Satan and should be avoided. There are those who dedicate their lives to such pursuits. They are not living in grace or on the path to salvation. The ways in which time is used is what each soul will be judged upon. Each soul is given the grace to persevere in honesty in time. You must make time your friend and use it towards your own salvation."

"There are times it takes much effort to use the time I give you as a means of righteousness. I, as your Creator, desire to share each moment of time with you. I desire to uncover Satan's ploys in your lives. The evil one has an individual plan of seduction to lure each soul away from Holy Love and into disordered self-love. I have a plan, as well, a plan to lead each soul into Heaven with Me. Each soul needs to follow the urging of his angel guardian in order to stay on the path I have chosen for him. There are ways that time is a gateway to lead souls into sin – entertainment, modes of dress, the sins of the tongue are to name a few. The misuse of time is careless in any effort to please Me. Return to Me, each one of you. My Arms are open to receive you – to forgive you."

Read Ephesians 2:4-10+

But God, who is rich in mercy, out of the great love with which he loved us, even when we were dead through our trespasses, made us alive together with Christ (by grace you have been saved), and raised us up with him, and made us sit with him in the heavenly places in Christ Jesus, that in the coming ages he might show the immeasurable riches of his grace in kindness toward us in Christ Jesus. For by grace you have been saved through faith; and this is not your own doing, it is the gift of God – not because of works, lest any man should boast. For we are his workmanship, created in Christ Jesus for good works, which God prepared beforehand, that we should walk in them.

+ Scripture verses asked to be read by God the Father.

 

23 de Noviembre del 2020
Nuevamente veo una gran llama que he llegado a reconocer como el Corazón de Dios Padre. Dice: "Todo lo que tenga indicios de deshonestidad, traición a la verdad o de hipocresía proviene de Satanás y debe evitarse. Hay quienes dedican su vida a esos propósitos. Ellos no están viviendo en gracia ni en el sendero a la salvación. Cada alma será juzgada en base a la forma en que utiliza su tiempo. Cada alma recibe la gracia de perseverar en la honestidad en todo momento. Tienen que hacer del tiempo su amigo y utilizarlo para su propia salvación."

"Hay momentos en los que se requiere de mucho esfuerzo para utilizar el tiempo que Yo les doy como un medio para la rectitud. Yo, como su Creador, quiero compartir cada instante con ustedes. Quiero revelar las intrigas de Satanás en sus vidas. El maligno tiene un plan de seducción individual para alejar a cada alma del Amor Santo y llevarla al amor propio desordenado. Yo también tengo un plan. Un plan para llevar a cada alma al Cielo Conmigo. Cada alma necesita obedecer las persuasiones de su ángel de la guarda a fin de permanecer en el sendero que Yo he elegido para ella. Hay maneras en las que el tiempo es una puerta para llevar a las almas a pecar; el entretenimiento, la forma de vestir, los pecados de la lengua, por nombrar unas cuantas. El mal uso del tiempo es inútil en el esfuerzo por agradarme a Mí. Regresen a Mí, cada uno de ustedes. Mis Brazos están abiertos para recibirlos, para perdonarlos."

Lean Efesios 2:4-10




Pero Dios, que es rico en misericordia, por el gran amor con que nos amó, precisamente cuando estábamos muertos a causa de nuestros pecados, nos hizo revivir con Cristo –¡ustedes han sido salvados gratuitamente!– y con Cristo Jesús nos resucitó y nos hizo reinar con él en el cielo. Así, Dios ha querido demostrar a los tiempos futuros la inmensa riqueza de su gracia por el amor que nos tiene en Cristo Jesús. Porque ustedes han sido salvados por su gracia, mediante la fe. Esto no proviene de ustedes, sino que es un don de Dios; y no es el resultado de las obras, para que nadie se gloríe. Nosotros somos creación suya: fuimos creados en Cristo Jesús, a fin de realizar aquellas buenas obras, que Dios preparó de antemano para que las practicáramos.
RE: Latest messages are at Holy Love Ministries and Ministerios del Amor Santo