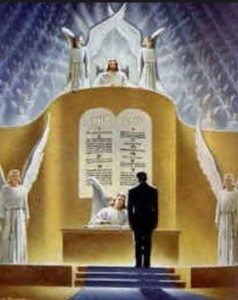 April 14, 2020
Tuesday of the Octave of Easter
Once again, I (Maureen) see a Great Flame that I have come to know as the Heart of God the Father. He says: "I come, once again, to speak to the heart of humanity. Each soul matures spiritually according to his free will. Some profit from their mistakes, repent and reform. Others do not care to please me. They move farther and farther away from the greater good. These are the ones who are self-centered – seeking only to please themselves. They do not examine their own consciences with an eye to improving spiritually."

"Each soul is judged by the merit of Holy Love in his heart when he breathes his last. How much does he love Me? How deep is his love for his neighbor? Does he love his neighbor as himself? This pandemic is a rare test of this maxim. Each soul can grow spiritually during this, or any crisis, or depending on his dependency in human efforts alone, drift farther away from Me. Learn from this and trust in My Provision."

Read Luke 11:10-13+

For every one who asks receives, and he who seeks finds, and to him who knocks it will be opened. What father among you, if his son asks fora fish, will instead of a fish give him a serpent; or if he asks for an egg, will give him a scorpion? If you then, who are evil, know how to give good gifts to your children, how much more will the heavenly Father give the Holy Spirit to those who ask him!"

+ Scripture verses asked to be read by God the Father.

 

14 de Abril del 2020
Martes de la Octava de Pascua
Nuevamente veo una gran llama que he llegado a reconocer como el Corazón de Dios Padre. Dice: "Una vez más vengo para hablarle al corazón de la humanidad. Cada alma madura espiritualmente de acuerdo a su libre albedrío. Algunos se benefician de sus errores, se arrepienten y se corrigen. A otros no les interesa agradarme a Mí. Se van alejando cada vez más del bien común. Me refiero a los que son egocéntricos, que buscan solamente agradarse a sí mismos. No examinan sus conciencias con miras a mejorar espiritualmente."

"Cada alma es juzgada por el mérito del Amor Santo en el corazón al dar su último aliento. ¿Qué tanto me ama? ¿Qué tan profundo es su amor por el prójimo? ¿Ama a su prójimo como a sí misma? Esta pandemia es una prueba insólita de esta máxima. Cada alma puede crecer espiritualmente durante esta crisis –o durante cualquier crisis– o alejarse de Mí si depende únicamente de los esfuerzos humanos. Aprendan de esto y confíen en Mi Provisión."

Lucas 11:10-13




Porque el que pide, recibe; el que busca, encuentra; y al que llama, se le abrirá. ¿Hay algún padre entre ustedes que dé a su hijo una serpiente cuando le pide un pescado? ¿Y si le pide un huevo, le dará un escorpión? Si ustedes, que son malos, saben dar cosas buenas a sus hijos, ¡cuánto más el Padre del cielo dará el Espíritu Santo a aquellos que se lo pidan!
RE: Latest messages are at Holy Love Ministries and Ministerios del Amor Santo