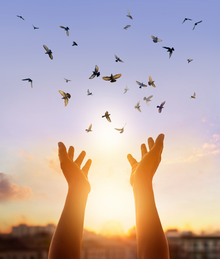 July 21, 2021
Once again, I (Maureen) see a Great Flame that I have come to know as the Heart of God the Father. He says: "As the date of our next prayer event* fast approaches, each soul who is coming** needs to make a concerted effort to cleanse his heart of unforgiveness. Ask the Holy Spirit to reveal to you anyone you may have never forgiven for anything – great or small. As I have forgiven you, so you must imitate My Mercy and forgive all others. Unforgiveness is a great barrier to Grace. The heart that has prepared in this way will be an open vessel to receive My Grace."

"What I am saying to you today in preparation for this prayer event needs to be carried out throughout your life."

Read Luke 17:3-4+




Take heed to yourselves; if your brother sins, rebuke him, and if he repents, forgive him; and if he sins against you seven times in the day, and turns to you seven times, and says, 'I repent,' you must forgive him."

+ Scripture verses asked to be read by God the Father.

 

21 de Julio del 2021
Nuevamente veo una gran llama que he llegado a reconocer como el Corazón de Dios Padre. Dice: "Conforme la fecha de nuestro próximo evento de oración se acerca, cada alma que va a venir tiene que hacer un intenso esfuerzo para limpiar su corazón de la falta de perdón. Pídanle al Espíritu Santo que les revele si hay alguien a quien tal vez nunca han perdonado por alguna cosa, grande o pequeña. Así como Yo los he perdonado, así ustedes tienen que imitar Mi misericordia y perdonar a todos los demás. La falta de perdón es un gran obstáculo para la gracia. El corazón que se ha preparado de esta forma será un vaso abierto para recibir Mi gracia."

"Lo que estoy diciéndoles hoy en preparación para este evento de oración tiene que realizarse durante toda la vida."

Lean Lucas 17:3-4




Por lo tanto, ¡tengan cuidado! Si tu hermano peca, repréndelo, y si se arrepiente, perdónalo. Y si peca siete veces al día contra ti, y otras tantas vuelve a ti, diciendo: "Me arrepiento", perdónalo.
RE: Latest messages are at Holy Love Ministries (www.holylove.org) and Ministerios del Amor Santo (www.amorsanto.com)