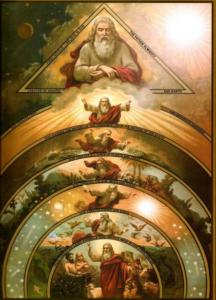 December 24, 2020
Once again, I (Maureen) see a Great Flame that I have come to know as the Heart of God the Father. He says: "Children, these times require unprecedented unity in prayer. Your nation* is drowning in misinformation and illegitimate election** results. Efforts are underway to dismantle the democracy which was formed by the Hand of My Will. This is why I am calling for a National Day of Prayer which calls for the support of this President*** as the legitimate President-elect. Be united in prayer from the heart. Prayer changes things. I am asking for New Year's Day to be this day of prayer – unless otherwise stated by your President. It is My wish that this President remains under law the seated President of this great nation. It will take a united prayer effort that the lies of evil do not overcome the Truth."

Read Philippians 2:1-2+

So if there is any encouragement in Christ, any incentive of love, any participation in the Spirit, any affection and sympathy, complete my joy by being of the same mind, having the same love, being in full accord and of one mind.

+ Scripture verses asked to be read by be read by God the Father.

 

24 de Diciembre del 2020
Nuevamente veo una gran llama que he llegado a reconocer como el Corazón de Dios Padre. Dice: "Hijos, estos tiempos requieren una unión en la oración sin precedente. Su Nación se está ahogando en la información falsa y en los resultados ilegítimos de las elecciones. Hay esfuerzos en marcha para desmantelar la democracia que la mano de Mi Voluntad formó. Por esa razón estoy llamando a un día nacional de oración pidiendo el apoyo a este Presidente (Donald J. Trump) como el legítimo presidente electo. Estén unidos en oración con todo el corazón. La oración cambia las cosas. Solicito que este día de oración sea el día de Año Nuevo; a menos que su Presidente indique otra cosa. Es mi deseo que este Presidente, según el derecho, siga siendo el presidente en funciones de esta gran nación. Se necesitará un esfuerzo solidario de oración para que las mentiras del mal no venzan la verdad."

Lean Filipenses 2:1-2




Si la exhortación en nombre de Cristo tiene algún valor, si algo vale el consuelo que brota del amor o la comunión en el Espíritu, o la ternura y la compasión, les ruego que hagan perfecta mi alegría, permaneciendo bien unidos. Tengan un mismo amor, un mismo corazón, un mismo pensamiento.
RE: Latest messages are at Holy Love Ministries and Ministerios del Amor Santo